Valentine's Day Gift Buying Guide: Tacori Designer Fine Jewelry
February 10th, 2017
Better than dinners, chocolates, or roses, nothing says better says "I love you" than the gift of fine diamond jewelry! With Valentine's Day around the corner, now is the perfect time to find the fine fashion jewelry item sure to bring a lifetime of love, happiness, and satisfaction to the wearer. Committed to helping their customers find just such a piece, BENARI JEWELERS proudly offers an unbeatable selection of fashion jewelry, bridal jewelry, and timepieces for all tastes, ages, and fashion preferences.
In both of Benari Jeweler's Exton and Newtown Square, Pennsylvania, showrooms, customers will find some of today's most popular jewelry designers including, Mikimoto, Luvente, Marco Bicego, Hearts on Fire, Forevermark, and others.
The makers of some of the most popular jewelry pieces today at BENARI JEWELERS, the California-based designers at Tacori are renowned for making engagement rings, wedding bands, and other jewelry items of an unsurpassable brilliance, glamour, and shine.
To help find that perfect piece for all the "Tacori Girls" in your life, here is some of some of the most beautiful Tacori pieces available today at either of the Exton and Newtown Square showrooms of BENARI JEWELERS.
For the "Tacori Girl" With a Love for Everything Vintage:
Thanks to the innovations of Tacori's skilled jewelry makers, from Tacori comes an immense selection of fabulously diamond and gemstone adorned, necklaces, earrings, and bracelets, as well as a glamourous selection of one-of-a-kind fashion rings.
Fun, flirty, and sophisticated, the fashion rings of Island Rains, and Ivy Lane, collections, all available today at BENARI JEWELERS, are perfect for the "Tacori Girl" on your shopping list who has an undying love for anything and everything bright, shiny, and vintage.
Some of our favorite Tacori fashion rings available today at BENARI JEWELERS include the wonderful:
City Lights Tacori Ring. Made of emeralds, onyx, and diamonds [model #SR14927]
The Vintage Styled Tacori Island Rains Turquoise Ring [model #SR143050233]
And from Tacori's Ivy Lane Collection, this 18-Karat Rose Gold Fashion Ring [model #SR185P]
For the "Tacori Girl" With a Healthy Appetite for Diamonds
Made with only the highest-quality diamonds, all Tacori pieces at BENARI JEWELERS radiate a glow and sparkle unlike anything else. Entirety one-of-a-kind, every Tacori piece is hand designed in Tacori's California Design Studio, and include the luminous necklaces of their Monogram and Sonoma Skies collections, amongst many others. Constructed with 18-karat white gold, yellow gold, rose gold, and platinum, these necklaces make great gifts for those on your gift list who bring an effortless elegance to every situation.
Some of our favorite Tacori necklaces available today at BENARI JEWELERS include the:
White Gold Diamond Pendant from Tacori's Champagne Sunset Collection [model #FP646]
The Tacori's Classic Crescent Heart Shaped Diamond Pendant [model #FP501]
As well as the Tacori White Gold Reverse Crescent Diamond Necklace [model #FP593]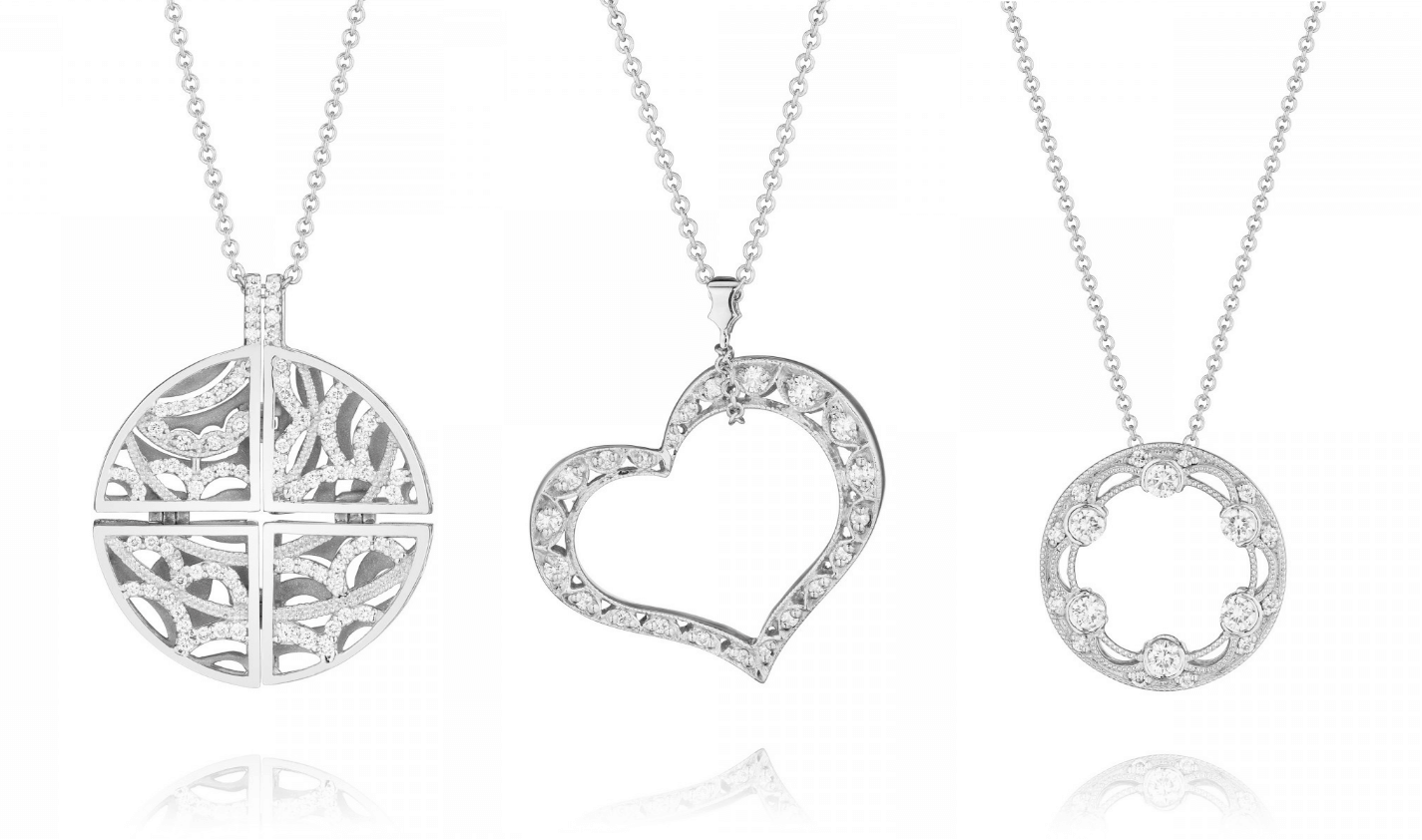 For Your Forever "Tacori Girl"
If you're considering using Valentine's Day as the opportunity to ask your "Tacori Girl" to be your "Tacori Wife," BENARI JEWELERS proudly offers a selection of beautiful engagement rings covered in diamonds of all shapes, sizes, and settings.
From collections like the Tacori Dantela, RoyalT, Classic Crescent, Blooming Crescent, and Simply Tacori collections, BENARI JEWELERS is committed to helping their Newtown Square and Exton customers find an engagement ring ideal for any beautiful bride-to-be. Additionally, BENARI JEWELERS carries an immense variety of GIA-certified loose diamonds, ensuring that all Tacori engagement rings are as glamorous, beautiful, and bright as possible.
Some of the most popular Tacori engagement rings today at BENARI JEWELERS include the:
Halo Style Tacori Blooming Beauties Sidestone style ring [model #HT2520EC85X65]
From the Tacori Dantela Collection, the 18-Karat White Gold Milgrain Style Three Stone Ring [model #2622PRMDP]
As well as the vintage-inspired Tacori RoyalT Ring [model #HT2626RD10]
And many, many other Tacori designer rings and collections!
Other Tacori Fine Jewelry Pieces Available Today at BENARI JEWELERS
In addition to their wonderful selection of Tacori fine jewelry items, BENARI JEWELERS also carries an unbeatable selection of Tacori diamond bracelets and necklaces, and not to ignore the "Tacori Men," Benari proudly offers men's rings, necklaces, cufflinks, and tiebars from Tacori's Monterey Roadster, Retro Classic, and Legend collections.
Further, if you've already found that perfect Tacori piece for your beloved "Tacori Girl," Benari offers full-service jewelry repair and jewelry cleaning services, completed entirely on-site and sure to bring new life to any fine jewelry item.
For more information on the sales, events, products, and services available today at BENARI JEWELERS, please visit their website, or come into either of their Newtown Square or Exton, Pennsylvania showrooms today!