The Art of Stacking
January 22nd, 2019
The most important thing about stacking is that there are no restrictions. Whether that means wearing a wrist full of bold mixed metals or wearing everyday dainty chain pieces; the best way to wear multiple bracelets is to style it your way. If you still have questions, no need to worry because we have tips and tricks to sweet arm candy looks that can be accustomed to your taste. Try our looks, see our personalized stacked styles, and then shop the look that you want.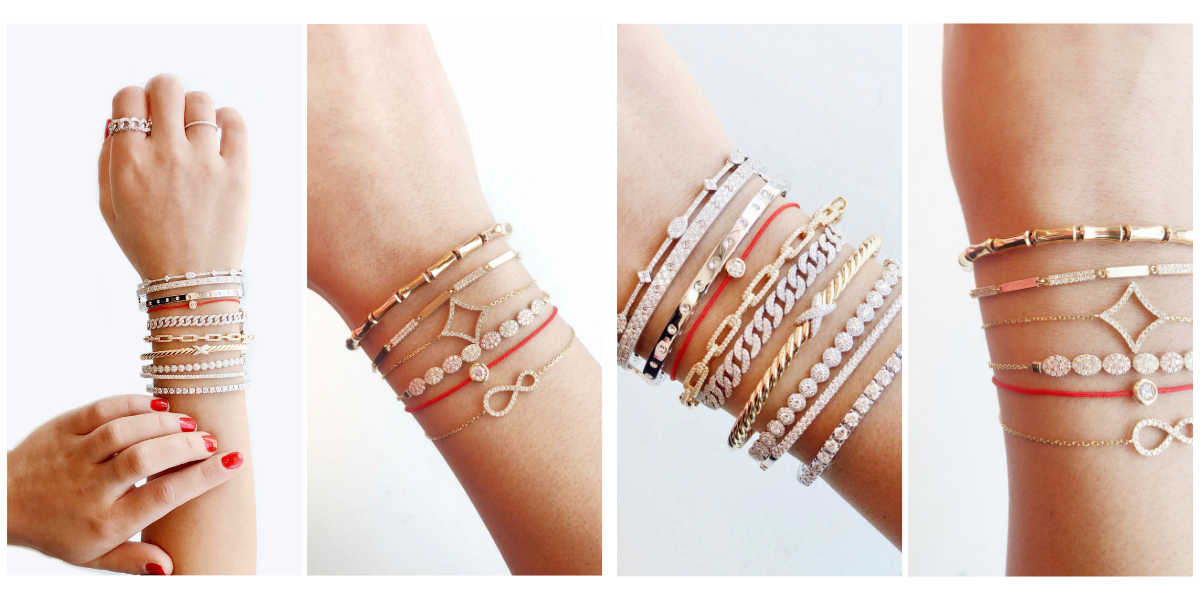 Mix it Up
The beauty of a stacking is that you can mix an array of bracelets for your own original look. One rule you can stick to when stacking is that you do not have to play it safe. Do not shy away from mixing a dainty gold cuff with a silver chunky bangle. Mix different weights and widths of bracelets together to add dimension and texture to your style.
Our collection of pieces vary in metal, size, texture, and overall look. The pleasure in piecing them together is to finalize a look that can truly be your own.
Pop of Color
A contrasting color can keep your layered stack look interesting. Our Lucky Bezel Diamond Red String Bracelet adds a pop of color in our inspirational stack. This simple touch of color adds a refreshing appeal to the stack that goes a long way.
The Lucky Bezel Diamond Red String Bracelet
Stack it Up Your Way
The stacks on your hand are what you constantly stare at when you are typing on the keyboard at work, grabbing a mimosa at Sunday brunch with friends, or petting your furry best friend after a long day. It is important that the arm candy that you choose to wear brings you joy.
The collection of pieces you wear can be old and new. This could include the white gold bangle your grandmother passed down to you paired with a diamond tennis bracelet that you just bought yourself for an early Valentine?s Day gift. The importance of the stack is that each piece brings its own type of beauty to your life.
Add a Touch of Benari
Online and in-store we have a wide range of bracelets that you can add to your stack. Build up your stack with white, rose, and yellow gold. Below are a few pieces that we wanted to share that could add the finishing touch to your stack. Our locations are in Newtown Square, PA and Exton, PA with attainable luxury goods that is perfect for gift givers or those that want to self purchase. Our fashion brands include Roberto Coin, John Hardy, and more!