Sylvie Bridal Jewelry: Made by Women, for Women
May 15th, 2020
Sylvie is a one-of-a-kind brand for many reasons. One of the most important ones for our customers here at BENARI JEWELERS is the fact that Sylvie is truly a "by women, for women" brand. There's something special about that, since an engagement ring is fundamentally a woman's piece of jewelry. Men can be jewelry designers, of course, but for a woman, there's a kind of investment in an engagement ring looking good that a man can't quite grasp. But fiancés-to-be, don't feel left out! Today, we're going to provide a handy guide to what makes Sylvie so special as a brand, and why your partner will absolutely flip when you open a box with a Sylvie ring inside.
The Diamonds
This certainly isn't universal, but most women really appreciate when their partners get them a big, glitzy engagement ring. After all, they're going to be showing off this ring to their families, friends, and coworkers, so a diamond-studded engagement ring acts as a way of vicariously showing off their guys. The designers at Sylvie understand this, and it comes through in their Halo and Sidestone collections. The preeminent of Sylvie's engagement rings, these pieces are designed with side diamonds that blend seamlessly into the center stone, making it appear as though the light and sparkle of these halo rings and side-stone rings pours out into the shank.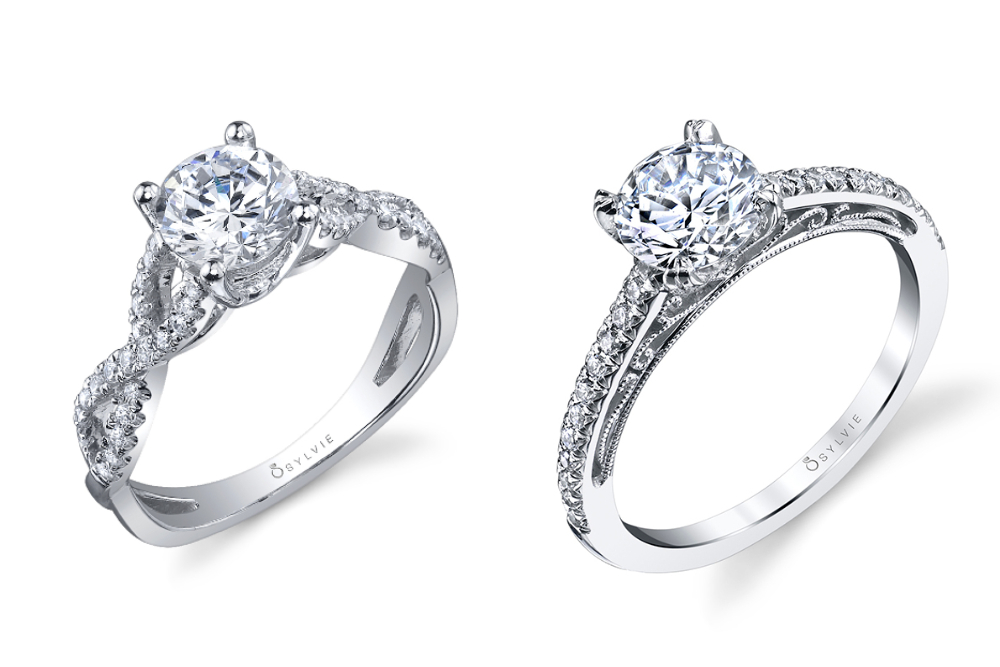 The Vintage Appeal
Vintage elegance is another thing that fiancées appreciate: There's something special about having a wedding band or ring that reminds a woman of her grandmother's bridal set (albeit given a modern sprucing-up). A vintage-inspired engagement ring not only allows a woman to feel connected to her family and its traditions, but it allows her to embrace a personalized sense of aesthetics that are right for her. Sylvie rings are noted for their vintage inspiration: Milgrain beading, elaborate filigrees, organic themes, and geometric boldness are all elements that scream Art Deco. Of course, it's the modern elements that put these vintage features into context, such as princess-cut diamonds and twisted shanks.
Made to Match
Often, it can be difficult to pair one's favored engagement ring and wedding band. If they're made by two different designers, they may not fit together physically or aesthetically. Sylvie, as a woman-headed brand, understood that issue, and released a collection of matching wedding bands that are made specifically to pair with their engagement rings. This comes through in the shape, since most of these bands have been curved to fit against the center diamond of your chosen engagement ring. But it also means that the white gold, filigrees, and pave-set stones are designed to accentuate the beauty of their partner without stealing too much of the show from them.
We're extremely fond of Sylvie here at BENARI JEWELERS, and we're excited to show their work off to you when you're looking for something perfect to celebrate your wedding or engagement. If you're interested in learning more about the designer's work, make BENARI JEWELERS your local jeweler today! Contact us at 610-363-8450 to reach our Exton, Pennsylvania showroom; or 610-355-1800 for Newtown Square, Pennsylvania.