Shimmer All Season Long with These 6 Ultra-Trendy Bangles
November 14th, 2018
More than just a bright summer staple, bangles are a great way to add a bit of carefree flair to your ensemble all year long. They're the perfect way to bring bulky winter outfits to stylish new heights.
The best way to get a bit of wrist action going this season? Read on to find out and see some of our favorite bangles in the BENARI showcase.
Deeper than Simple Style
First things first: what exactly are bangles, anyway? Most are familiar with the vastly popular stackable bracelets. Bangles are characterized by their simple hoop design and the fact that many are generally worn at once. They hail from India and are a long-standing staple in Southeast Asian fashion and culture.
Archaeologists have unearthed ancient bangles from as far back as 200 BC. They carry many different cultural meanings depending on the part of India the wearer is from and play a significant role in Indian dancing and other community-oriented activities as well as religious ceremonies. Bangles can be made out of glass, wood, and, most commonly seen by westerners, various types of precious metal. Plastic bangles are becoming increasingly popular as time goes on.
What's the best way to style bangles? They can be worn casually or formally, depending on the look. Tons of simple bangles can be stacked on both wrists to add movement to an outfit. They can be used more sparingly to add dainty, feminine flair to your date night look, as well.
Bangles for Any Occasion
Whether you're from the east or west, the bangles' youthful charm can scarcely be denied. Some may find it easy to overlook the bare-bones style of bracelet, but we feel that the simplicity of the bangle is the perfect canvas with which to build upon.

Interested in bangles that you can stack to your heart's content? Check out the Marrakech bangle by Marco Bicego. The wavy silver wristlet is no-nonsense and frill-less enough to stack without overwhelming your look. Same goes for Simon G's Modern Enchantment bangle.
For a taste of something slightly more upscale, look no further than Shy Creation's Kate bangle. Its undulating gold band is studded with more than a carat of diamonds, making this piece a standout no matter what you pair it with.
Luxury Bangles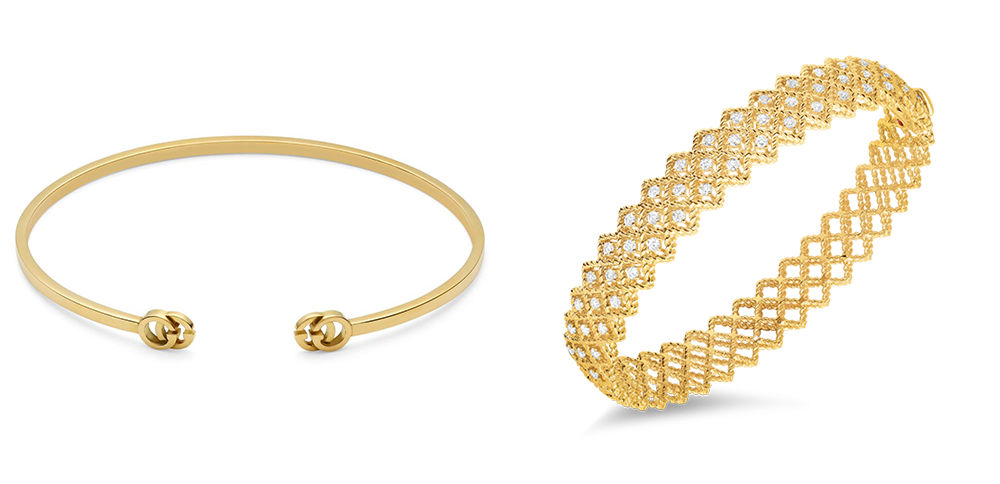 Gucci takes the concept of bangles and runs with it, literally. Their GG Running bracelet is perfectly unpretentious in design and gorgeous on its own or in combination with others.
The lacy elegance of the Roberto Coin Roman Barocco bracelet is stunning in 18k yellow gold. It's the ultimate cuff to complement your favorite evening gown and is classy enough for even the most formal black tie affair.
Shop Bangles at BENARI JEWELERS
For those in the know in Exton, Newton Square, and the greater eastern Pennsylvania region, you already know where the best place for bangles of all shapes, sizes, and varieties is this season. With two brick-and-mortar locations, financing options for those who qualify, and military discounts for those who have served or who are currently serving, there's plenty of reasons to pay us a visit. Our custom jewelry design service means that you'll be able to buy exactly what you're looking for, even if what you want doesn't actually exist yet.
Book an appointment or browse our online catalogue today – we make jewelry shopping a breeze, whether you're buying for others or just looking to treat yourself. Go on. You've earned it. We're here to help.