PERFECTING THE RING SELFIE
June 15th, 2015
Chances are, you are a selfie-taking expert by now. You've probably seen numerous photographs of women wearing their engagement rings, but when it's your turn to have the question popped, is your hand ready for its 15-seconds of fame? Use these helpful tips to get the perfect ring selfie!
Get a manicure (duh!) – This is probably a no-brainer, but make sure your nails are done. Simple as that. Get your nails done. Do it!
Find the perfect lighting – Natural lighting tends to be everyone's best option, so if you can go outside on a sunny day, find where the light hits the diamond and capture the moment. If you'd rather take one indoors, make sure the light isn't too harsh which may cause the picture to be blurry. Filtered lighting by windows is a great way to control how the light hits your hand.
Gather props – There's going to be some sort of background in your image. If your nails are manicure-ready and you were proposed to on the beach or somewhere with beautiful scenery, consider taking the image right where you are. If not, holding coffee mugs or having flowers in the picture adds some personal style to the selfie.
Angles, angles, angles – Ring selfies usually focus on the hand and ring at a straight, direct angle. If you have a lot of side details on the ring, we recommend playing around and seeing how it looks from a close up photo. If you decide to go straight on, spreading your fingers apart a little bit help make them appear longer and taller. You don't have to be a hand model, but like you would your face in a normal selfie, know how your hand looks from different points of views.
See these tips in action with the ring selfie below, shared to us by Jennifer W. with her beautiful engagement ring from BENARI JEWELERS. Thanks Jennifer!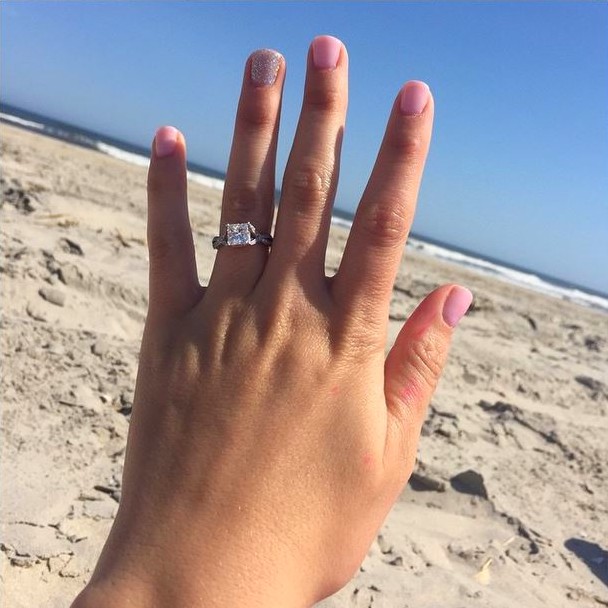 Share your ring selfies with us on Instagram
@benarijewelersofficial
with the hashtag '#BENARIbling'.