On Trend: Seal the Deal with a Pear-Shaped Engagement Ring
August 20th, 2018
Planning on tying the knot with your special somebody soon? Chances are, you're going to want a rock of comparable size and quality to the love you feel for your future partner that's where we come in.
BENARI JEWELERS is back once again with our periodical current trend round-up, and this is one that we have been dying to share. While we?re certainly not adverse to traditionally-sought-after engagement rings of the princess-cut variety, there is one recent trend that we are absolutely obsessed with right now: pear-shaped engagement rings. You are about to experience a true feast for the eyes.
Halo Pear-Shaped Engagement Rings
Pear-cut diamonds are fabulous for many reasons not only are they unique and out of the ordinary when it comes to pre-bridal regalia, they also happen to make the centerpiece diamond appear much larger than its actual carat size.
The best way to compound this effect? Surrounding the stone with a glamorous ring of smaller diamonds. Halo engagement rings, chic enough on their own, are an excellent way to enhance the star of the show while adding an extra heaping of glitzy sparkle to the composition of the ring as a whole.
Some of our favorite pear-shaped halo ring designers from our collection? Coast and A. Jaffe come to mind immediately.
Horizontal Stones
Another way to achieve a look that is both stunning and uncommon is choosing a pear-shaped engagement ring featuring a central diamond flipped over so it appears to be lying on its side. While there is definitely something to be said for the classically-oriented variation of this trend, this asymmetrical look shines in a sea of pear-shaped diamond rings that can often be very similar in appearance.
Check out this beauty from Tacori's Simply Tacori collection.
Aside from our beloved Tacori, we offer a diverse selection of horizontal stones for your fiancee.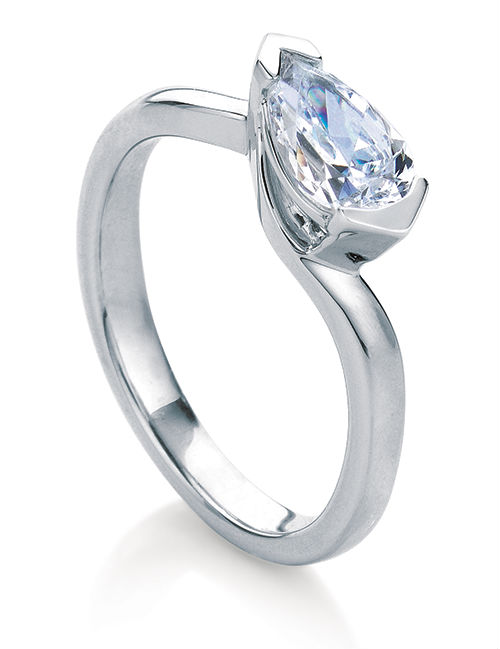 The Eternal Appeal of Simon G
You know we had to save the best for last.
Simon G, known for their masterful artistry across the board, has got to be our absolute favorite designer in our collection when it comes to pear-shaped engagement rings. Here are two gorgeous selections from his Passion collection.
Classic aesthetics and a modern, ornate sensibility come together in holy matrimony (no pun intended); this stunning, striking style is something that can be found in every piece they offer, especially in the way of engagement jewelry.
Take a stroll through their full selection. We dare you not to fall in love.
Help Us Help You
When it comes to beautiful jewelry in eastern Pennsylvania, BENARI JEWELERS is the best in the game. Don?t just take our word on it, though ? check out our catalogue and give us a call.
Whether shopping for yourself or somebody very special, you?ll be sure to find something fit to impress. We offer a free lifetime service plan and diamond upgrade policy with every purchase, and our 100% satisfaction guarantee ensures that you leave our store with everything you walked through our doors looking for.