MaeVona: Fine Jewelry with the Heart of a Scottish Woman
May 17th, 2019
The truth? Our passion for brands like MaeVona knows no bounds. Wares like theirs make us proud to be a part of this industry; serving as inspiration for retailers like us as well as other designers in the game, MaeVona is a veritable powerhouse of modern design.
What makes this company tick? How do they seemingly do it all? We take you on a deep dive into MaeVona and the legacy that's brought them to where they are today.
Heritage, Culture, and Incredible Jewelry
In 2005, a woman from Scotland named Maeve Gillies brought the MaeVona brand into the world from New York City. Observing the fact that the bridal jewelry market was absolutely saturated with shallow, generic rings that paid little attention to the character of the pieces themselves and focused more on the diamonds they held, Gilles made it her mission to revolutionize the culture of bridal jewelry with her own line of engagement rings and wedding bands imbued with life and integrity, both from an aesthetic perspective as well as from a globally-conscious ecological standpoint.
How did she do it? Taking inspiration from her Scottish roots, she turned a sense of national pride into the signature look of the pieces she creates. She has been getting her hands dirty since the age of fifteen, trying her hand at goldsmithing with the help of a friend in the business. After a substantial stint acting as head of design for one of the largest platinum jewelry producers in Europe, she broke free to found MaeVona on her own. The rest, as they say, is history.
MaeVona's style comes straight from Scotland – the Celtic rings the brand is known for bringing a taste of old-world Europe to the United States, putting a contemporary spin on Gillies' beloved heritage.
There's So Much MaeVona to Love at BENARI JEWELERS
The sleek and fresh designs MaeVona is known for are some of our favorites for spring – if you're planning to get hitched or engaged before summer arrives, you're going to want to take careful note.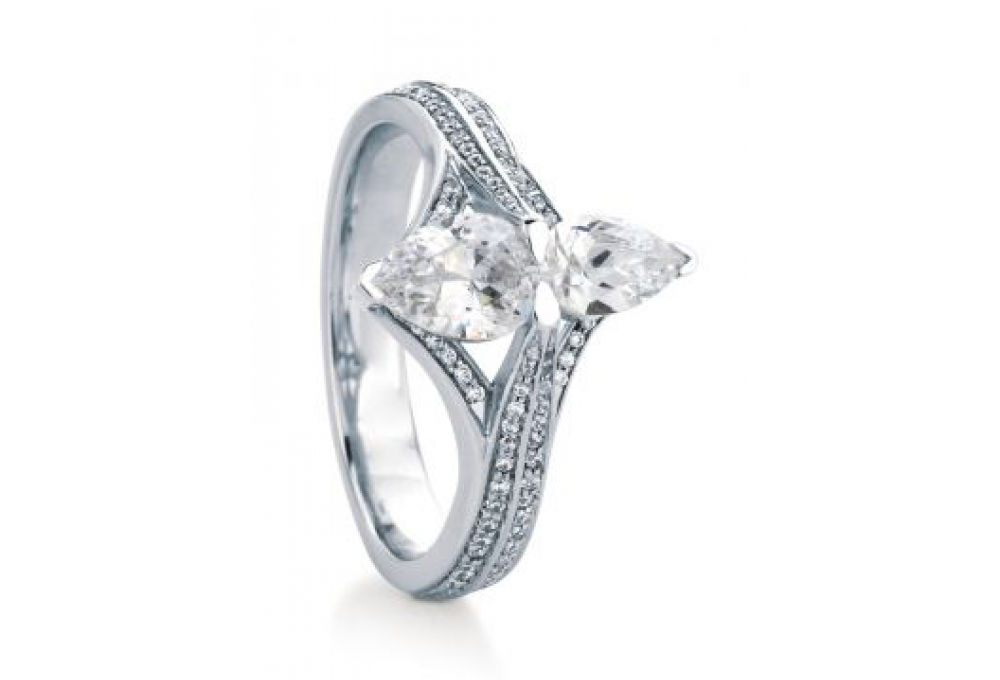 The Scottish Islands collection by MaeVona will transport you to the emerald green countryside of her homeland; the streamlined and vaguely floral designs found here will serve as a bright drop of sunshine you get to carry with you year-round.
The Wildflowers line of engagement rings will be the ultimate choice if your lady is a girly-girl through and through. This dreamy engagement ring is so swoon-worthy and available in your choice of white, rose, or yellow gold.
For the classy woman-about-town, nothing less than an engagement ring from MaeVona's Scottish Towns collection will do. Each piece is positively dripping with diamonds and a fair number boast two types of precious metal in a daringly different combination of warm and cool.
MaeVona and More at BENARI JEWELERS this Spring
Now that you've got the full disclosure, isn't it about time you stop by our shop in Exton or Newtown Square, Pennsylvania to see the rest of our showcase? If you're on the prowl for bridal jewelry from a producer that cares just as much about the beauty of the piece as they do the world at large, this environmentally-conscious brand is without a doubt the way to go. The lighthearted look of each MaeVona piece will make sure you are fabulous, refreshed, and ready for spring.

For more information on MaeVona or any of the other designers we carry, please feel free to reach out to our dynamo team of certified experts. We look forward to hearing from you soon.