John Hardy: Taking Sustainable Fashion to Soaring New Heights
January 14th, 2019
It goes without saying: where there is money, there is greed. When you?re in the business of luxury goods, it?s easy to get carried away and lose sight of what matters.
Thankfully, there are exceptions to this rule. John Hardy, a visionary among mere mortals, allows you to glam up sans guilt. His extraordinary offerings are not only absolutely fabulous ? they?re also backed by a company that cares.
John Hardy in Paradise: The Country that Started it All
Never heard of John Hardy? Our first question: how? Our second: where to begin?
John Hardy, hailing from Canada, is a high-end designer with a passion for economically conscious and responsible fashion. In the seventies, after traveling the world, he found himself enraptured by the traditional customs of native jewelry makers in Bali. Inspired to capture the same artisanal quality of their work, he apprenticed for several years under the masters themselves and eventually began working under his own label. He strove to preserve the indigenous way of producing fine goods in his work, each handcrafted piece authentic to the core. Consumers could not get enough. He broke ground officially in Bali in 1996, and the rest is history.
Now, after decades of success, John Hardy has made it his mission to be more than a mere jewelry company. Taking the necessary steps to become one of the greenest companies in the industry, one of his ultimate goals is to reduce the carbon footprint of the company to near-negligible levels. The silver used in each piece is recycled, echoing the ethos of sustainability found in almost every part of his business model.
His devotion to the country that brought his passion to life is unparalleled in the world of jewelry. He hires local workers, investing in his overseas employees by allowing them to pursue lifelong careers practicing their craft, stimulating Bali?s economy and bringing its people all of the prestige and notoriety their sublime work deserves. With every piece from his esteemed Bamboo collection sold, for example, bamboo trees are planted there in its honor.
John Hardy?s Classic Chain Collection
With something that everybody can get into, John Hardy?s Classic Chain collection is diverse and unforgettable. If pendants are your thing, there are plenty to be found here, including this intriguing necklace featuring an array of pristine sapphires. This stunning selection in sterling silver will lend your evening a dramatic finishing touch with just the right amount of edge.
We also implore that you check out his wares in the category of cufflinks under the Classic Chain label.
John Hardy?s Dot Collection
We know what you?re thinking ? dots? Really? Oh, ye of little faith.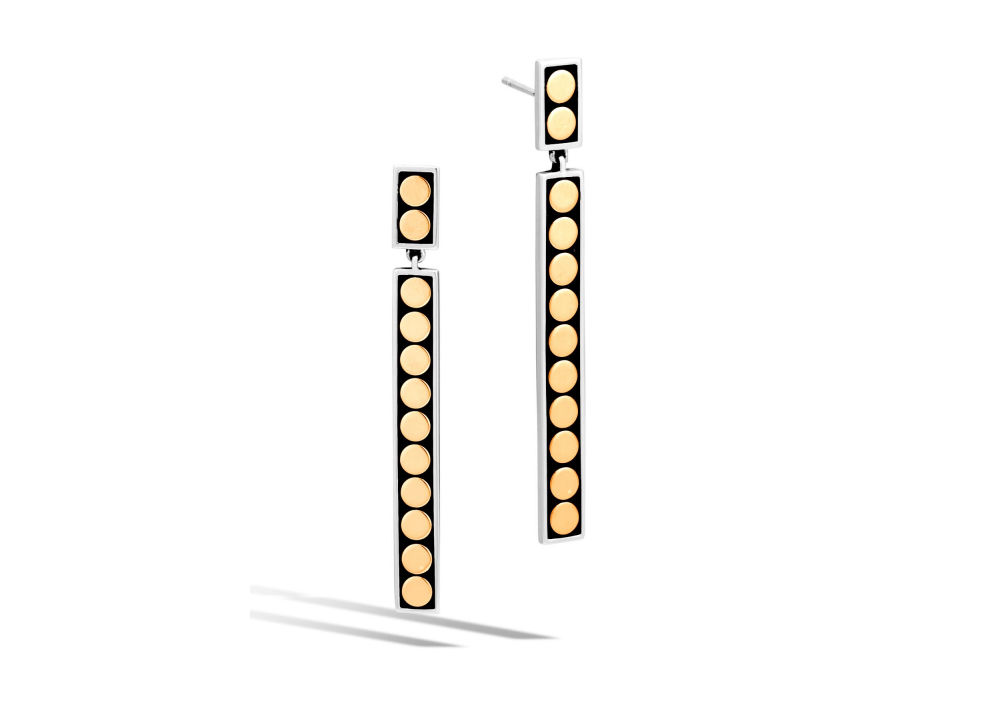 John Hardy?s Dot collection is a line that certainly stands out from the rest ? the selection of earrings it boasts has to be one of our all-time most-beloved. These bar earrings, for example, strike the perfect balance between modern and retro.
Bracelets from John Hardy?s Legends Collection
Probably one of his most well known lines of work, the bracelets featured in his Legends collection are bold and textbook John Hardy. The Legends cuff, a regal serpent that wraps ethereally around the wrist, is unlike anything else in our showcase, as is the Naga chain bracelet. For the more conservative among us, this ?snakeskin? cuff will impart just the right touch of exotic flair to your ensemble.
Shop Everything John Hardy at BENARI JEWELERS
The pieces above make up only a fraction of what BENARI JEWELERS has to offer Exton and Newtown Square when it comes to John Hardy, and beautiful jewelry in general. We?ve been serving the greater Philadelphia region for over half of a century, and we?re not about to let you down now. With repair services and a team of expert buyers at your fingertips, there?s no reason to shop anywhere but BENARI in 2019.
Come on. Would we ever steer you wrong? Feel free to get in touch with us online for more information ? our entire catalogue of John Hardy jewelry is just waiting for your perusal. For all things fabulous and exciting when it comes to John Hardy, you can count on our expert team to guide the way.