How to Find the Perfect Men's Wedding Band
September 15th, 2017
Probably the only piece of fine jewelry that a man will wear in his lifetime, finding the perfect men's wedding band can seem like a close to impossible task.
Traditionally, men's wedding bands were plainly designed and unadorned, made for comfort but not style. Now, luckily for the modern groom, things have changed! Today at bridal jewelry retailers likes BENARI JEWELERS, ring-seekers searching for the perfect men's wedding bands will be amazed at the vast array of designer-made pieces on display today.
With decades of experience helping customers find the fine jewelry pieces of their dreams, here are some tips by the wedding experts at BENARI JEWELERS to help you with finding the perfect men's wedding band today!
Part One: Tips to Finding the Perfect Band
Tip #1: Do Your Research!
When people ask us where to start searching for the ideal men's wedding band, we always tell them that the first thing to do is to head over to BenariJewelers.com and explore the amazing selection of designer made bands available online. Doing this kind of preliminary research is a great way to get a solid idea of what kind of wedding band you ultimately might be interested in.
For example, after exploring the classic bands of A. Jaffe, Henri Daussi, or Triton (pictured above), you might find that you're interested in finding a band that is timeless and traditional. On the other hand, you may find that a bolder more fashion-forward band is your style, if that's the case, then be sure to check out the collection of unique bands offered at BENARI JEWELERS from names like the ones pictured below by Tacori, and others.
Not only is researching online a simple way to get a decent idea of you're looking for, it's also a great way to explore the various precious metals, embellishments, and other important details of your band. Something that we'll go into more detail on below.
Tip #2: Shop at an Authorized Retailer!
Once you have a decent idea of the type of men's wedding band that you're interested in, the next step is to head to BENARI JEWELERS and let an experienced staff member help you find that perfect piece.
Additionally, shopping at an authorized retailer like BENARI JEWELERS is a great way to be totally sure that any men's wedding band purchases will be authentic and of the highest quality available.
Also, as a part of their ongoing commitment to customers satisfaction, BENARI JEWELERS offers a complimentary lifetime service plan and a 30-day 100% satisfaction guarantee on all men's wedding bands, something you just can't find at online jewelry retailers.
Part Two: Men's Wedding Band Considerations
When it comes to the available variety of men's wedding bands offered now, the sky is truly the limit. On display now in the Exton and Newtown Square locations of BENARI JEWELERS is a plethora of bands made of an amazing array of precious metals, as well as adorned with diamond embellishments of all kinds.
So, to help better understand these men's bands considerations, here is a quick explanation of some of the most common kinds.
Consideration #1: Precious Metals
(Platinum, yellow gold, and rose gold men's wedding bands by Hearts on Fire, ArtCarved, and A. Jaffe)
Typically, men's wedding bands have been predominantly made of yellow gold, white gold, rose gold, or platinum, and for good reasons. Long-lasting and easy to manipulate, these sorts of metals are a sure way to guarantee that your wedding band evokes an effortlessly classic fashion and sensibility.
In addition to these timeless materials, today it is becoming more and more popular for grooms to choose from bands that are made of an array of "alternative metals" such as titanium, zirconium, cobalt, tungsten, carbon fiber, and Damascus steel, as well as beautiful bands made of truly one-of-a-kind materials that include hardwood and even meteorites.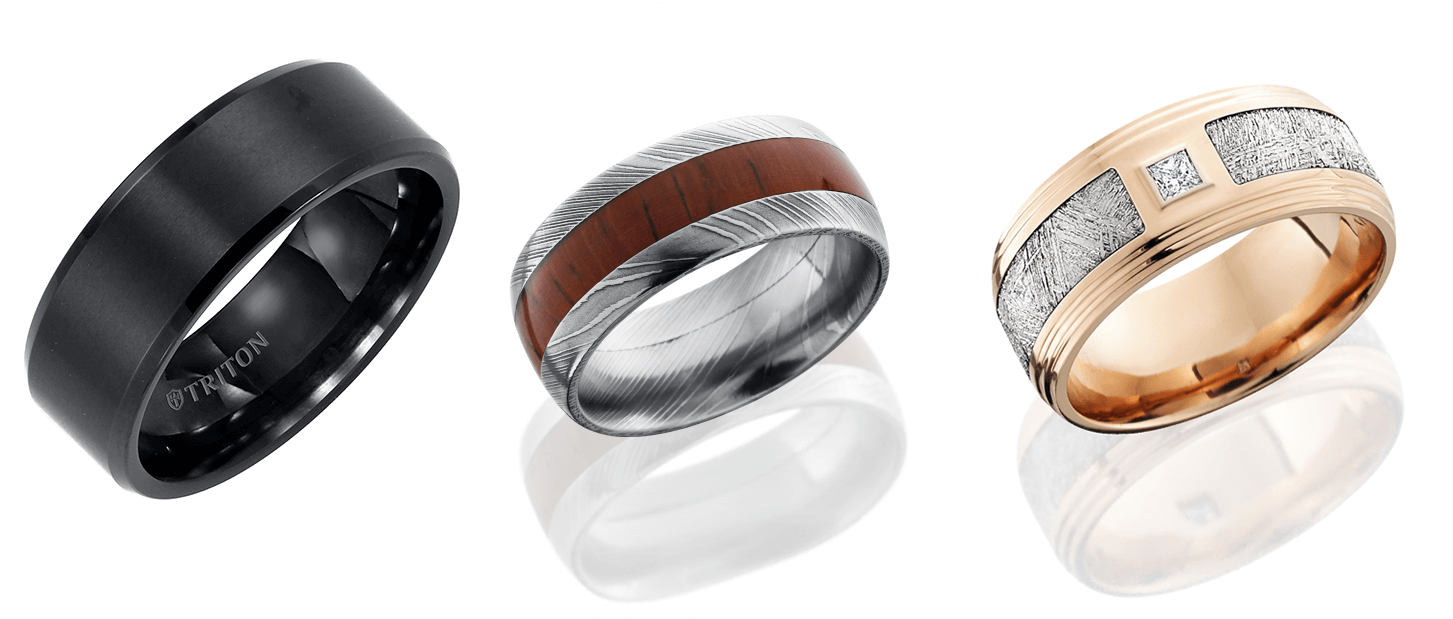 (Triton and Lashbrook men's wedding bands made of Tungsten, Hardwood, and Meteorite)
Pioneering the way for "alternative" band fashions are two brands, Triton and Lashbrook, who both of which are the creators of some of today's most innovative and unique men's wedding bands, and can be found in both the Exton and Newtown Square showrooms of BENARI JEWELERS.
Consideration #2: Diamonds or No Diamonds?
Another important thing to consider when shopping for a band, is whether or not you want a piece that features diamonds or other precious jewels. Available in pieces that range from subtle, to big, bright, and bold, diamond men's wedding bands are a wonderful way to bring a little bit of sparkle to any groom-to-be's life.
(Sapphire, White Diamond, and Black Diamond bands by Tacori, A. Jaffe, and Henri Daussi)
Today at BENARI JEWELERS, customers can find men's bands adorned with immaculate black, white, yellow diamonds, and a vast assortment of pieces with sapphires and other precious stones. Extremely on-trend and fashionable, these men's wedding bands feature diamonds that are set in an array of bezel, burnished, channel, and pave stone settings, meaning that every stone is securely placed and close-to-impossible to lose.
Visit BENARI JEWELERS Today for More Men's Wedding Bands!
Located in Exton and Newtown Square, Pennsylvania, BENARI JEWELERS is the premiere destination to find the absolute best in today's most popular men's wedding band fashions. An authorized retailer of legendary designers such as Tacori, Lashbrook, ArtCarved, Forevermark, Hearts on Fire, MaeVona, and more, finding the perfect men's wedding band is made simple at BENARI JEWELERS.
For more information on the men's wedding bands pictured here, please call BENARI JEWELERS at 866-363-0808, check out BenariJewelers.com, or visit the Exton and Newtown Square locations of BENARI JEWELERS today!