Fall Fashion Forecast: Jewelry Trends That Will Steal the Spotlight
August 20th, 2023
As the leaves change and the temperatures drop, it's time to embrace the beauty of fall and update our jewelry collection to reflect the latest fads. This year, the world of fashion jewelry is brimming with exciting possibilities. The fall fashion jewelry trends of this year promise to add a touch of sophistication and allure to your seasonal wardrobe. Our jewelry experts have compiled a guide to the hottest fads this fall that you can find in store at BENARI JEWELERS.
Feel Confident in Red
This fall, the color red takes center stage. Symbolizing passion and power, this vibrant shade adds a bold and captivating touch to any ensemble. To effortlessly incorporate this movement into your jewelry collection, look no further than our signature collection's stunning ruby tennis bracelet. With its rich red gemstones set in lustrous gold, this bracelet is a true showstopper. Whether you're attending a special event or simply want to make a statement, this ruby tennis bracelet is the perfect accessory to infuse your look with a touch of elegance and embrace the red-hot trend of the season.
Glitz and Glamor
Prepare to make a dazzling entrance with dramatic diamond pieces that exude opulence and sophistication. As this craze leans towards dramatic and extravagant jewelry, nothing captures the essence of glamor quite like a diamond choker. One stunning option to consider is this rose gold diamond choker from Fana. Crafted with impeccable precision and adorned with brilliant diamonds, this exquisite piece instantly commands the eye of all onlookers. With its ability to effortlessly transform any outfit, this diamond choker from Fana is a staple accessory for those who want to embrace the dramatic diamond trend and leave a lasting impression.
Bigger is Better
Fashion takes an exciting turn with large, statement piece mania. Embracing oversized accessories is the perfect way to make a memorable impact and exude confidence. Among the captivating options, the Simon G. leaf drop earrings from the Fallen Leaves collection are a standout choice. These remarkable earrings feature intricate leaf designs meticulously crafted with immense detail. The size and grandeur of these drop earrings instantly draw attention. With their unique design and undeniable presence, they capture the essence of this trend, making them an exceptional fall jewelry trend.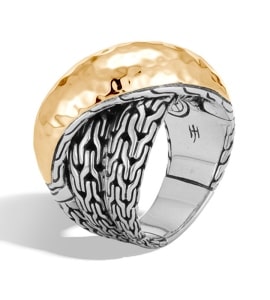 Pile on the Textures
This year, fall fashion is all about embracing multiple textures. It's the perfect opportunity to experiment with pieces that combine different tactile elements, adding depth and visual interest to your jewelry collection. A prime example of this trend is this John Hardy fashion ring, featuring both a chain-like texture and a hammered texture. The foxtail chain-like texture adds a modern and contemporary touch, while the hammered texture brings a sense of organic beauty and artisanal craftsmanship. This stunning ring not only captures the essence of fall fashion but also serves as a wearable work of art.
Chic Comfort
Comfort is the number one priority for this fall's fashion jewelry trends. Embracing pieces that are comfortable to wear allows you to effortlessly exude confidence. Consider these heart stud earrings from Shy Creation. With their delicate size and lightweight construction, they offer a comfortable fit without compromising on style. The heart-shaped design adds a touch of whimsy, making them versatile enough to be worn with any outfit. Whether you're attending a day-long event or simply running errands, these heart stud earrings ensure that you can flaunt your fashionable side without sacrificing comfort.
Explore Fall Trends at BENARI JEWELERS
BENARI JEWELERS is your ultimate destination for shopping the latest fall jewelry trends. As a premier retailer, we are thrilled to offer you a curated selection of stunning pieces that embody the essence of the season. Step into one of our Pennsylvania jewelry stores and immerse yourself in a world of elegance and style, where our knowledgeable staff will guide you through the hottest trends in fall jewelry. Our exceptional range of brands ensures that you'll find the perfect piece to elevate your fall wardrobe. Schedule an appointment at our Exton or Newtown Square showrooms, where we are dedicated to providing you with an unmatched shopping experience and helping you find the jewelry of your dreams.