Earrings: The Do's And Don'ts For Your Face Shape
May 16th, 2021
Choosing the right earrings for your face shape requires you to first know which face shape you have. If this is new to you, our best tip is to search "different types of face shapes" and peruse infographics until you find your perfect match.
Once you have your face shape narrowed down, it's time to explore earring styles suited for your face! The most fun part in our opinion. Below, you'll find designs for diamond, long, heart, square, and round face shapes. The secret is in contrasting designs. We explain why each style works for your face, so you can incorporate stunning earring styles for every mood and event.
Designs For The Darling Diamond
You have a pointed chin, wide cheekbones, and a narrow forehead. Totally lovely! When shopping for earrings, your aim is to balance the angles of your face. Avoid earring styles that mimic your shape. Steer clear of designs that are wider at the middle or top.
Embrace stud earrings and delicate drops that are wider than they are long. Shop luxurious chandeliers that are wider at the base or stay stylish in studs. Feel delicate in these shimmering gemstone earrings from Tacori. With amethysts shining, the gorgeous cushion cut gem is framed by the iconic Tacori crescent fabric.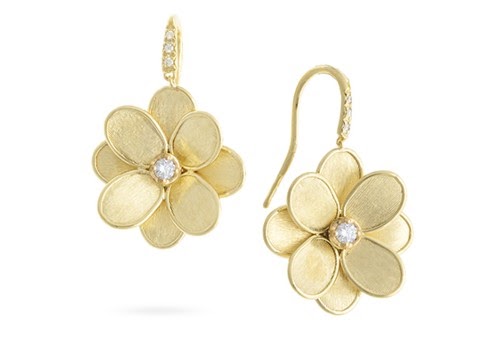 Looks For The Long And Narrow
Your forehead and cheekbones are similar in width, and your chin is soft. Heavenly visage! Your goal is to seek out earrings that broaden your face and generally add volume. It's all in the contrast.
Keep an eye out for sizable chandeliers as well as short, bulky drops. Stay on trend with floral motif earrings. Glow in Marco Bicego Petali earrings! The summery yellow gold petals calm as the sparkling diamonds enchant.
Modes For The Heart
Your face has a similar width at the jawline, cheekbone, and temple, while your chin remains narrow. Completely radiant! Search for earrings that balance the triangular shape of your face. Earrings that are wider at the bottom with a curved or triangular design are best.
Embody the ocean in these majestic John Hardy drops. The curve of these drops harmonizes with your face. The Lapis Lazuli is positively enchanting with golden flecks and white clouds amongst the deep blue.
Styles For The Stunning Square
You have a wider face with a similar width at your forehead, cheekbones, and jawline. Absolutely chic! You will know you've found the right earrings because they lengthen and soften the angles of your face.
Shop circular and angular earrings that are medium or long to perfectly contrast with your face. Don trending geometric designs with these glittering Shy Creation hoops. The rose gold is beautifully feminine and contrasts attractively with the masculine angular design.
Fashions For The Fascinating Round
You have wide cheekbones and graceful, soft angles. Beautifully gentle! Your holy grail earrings work to lengthen your face. Avoiding round designs in studs and hoops is essential.
Instead, seek out narrow designs in dangle and drop earring styles. Discover yourself in these colorful gemstone drop earrings. Not only will you feel elegant in these cascading drop earrings, but you'll be a trendsetter in rainbow hues which are popping up everywhere in 2021.
The Perfect Earrings For Your Perfect Face
Discover even more stunning earrings at BENARI JEWELERS. Explore our comprehensive inventory of designer jewelry online or in-store. When you shop at our Exton and Newtown Square locations, our skilled staff can help you find the perfect earrings for you. For exceptional service and unparalleled selection, shop fine jewelry at BENARI JEWELERS.