Designer Spotlight: Tissot
February 14th, 2017
Founded in 1853 by a renowned father-son watchmaking team, Tissot has garnered a reputation as one of the world?s most innovative and reliable timepiece companies. Seen on the wrists of fashionable athletes and celebrities ? including Hollywood legends like Grace Kelly, Jimmy Stewart, Elvis Presley, and Carmen Miranda ? the ladies? and men?s timepieces of Tissot are stylish and comfortable watches that everyone can enjoy.
Honored to be a part of this ongoing tradition of timekeeping excellence, at BENARI JEWELERS we are proud to carry, in our Exton and Newtown Square, Pennsylvania showrooms, a wide assortment of the latest watch collections that Tissot has to offer.
And to help you find the Tissot watch perfect for you, here are some of our favorite Tissot collections available now at BENARI JEWELERS.
1. Tissot T-Classic Collection
Tissot?s flagship line, the men?s and women?s watches that comprise the Tissot T-Classic collection are classically designed pieces of timekeeping sophistication and excellence. Exceptionally precise, T-Classic watches are known for their automatic and quartz-powered precision, as well as for their straightforward and confident designs.
Every bit as functional as they are fashionable, the models of the T-Classic Carson, Tradition, Couturier, Automatic III, and Luxury lines are built featuring unique complications that include perpetual calendars, tachymeters, chronographs, and simple-to-read date subdials. Understated enough for the office, yet still stylish enough for a night on the town, T-Classic watches are a true must-have for any fashionable person?s wardrobe.
2. Tissot T-Sport Collection
Ready to face any on-land, on-track, or on-sea adventure thrown their way, the watches of the Tissot T-Sport collection are specially crafted for the needs of the modern man on-the-go. Combining sporty aesthetics with a distinctly modern flair, T-Sport timepieces are more streamlined than those of the T-Classic collection and are built with an array of helpful features for any occasion.
Shown above from the exclusive PRC 200, T-Race, and Quickster collections, these T-Sport models feature some of the most innovative inner mechanisms and cutting-edge outside detailing that Tissot has ever made. Further, with water resistance up to 650 feet, along with stainless steel and rugged rubber construction, the watches of the T-Sport collection are made-to-last through wherever life may take you.
3. Tissot T-Touch and Heritage Collections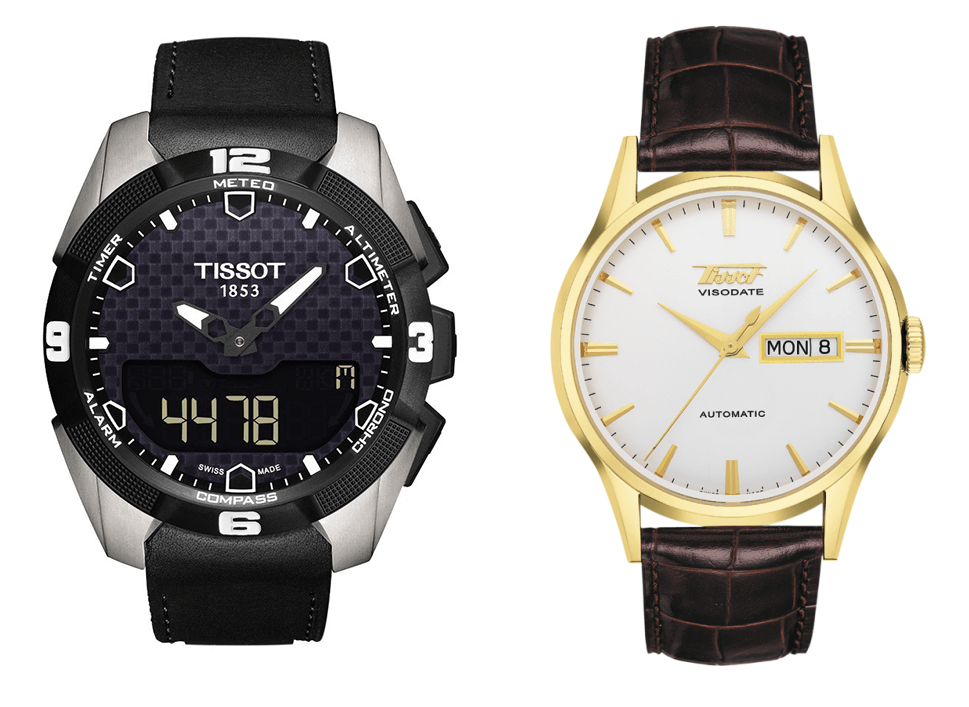 Last but not least are these watches from two of our very favorite Tissot lines ? the fashionable Heritage and the cutting-edge T-Touch Solar collections. Built to celebrate the past and make way for the future, these two collections feature some of Tissot?s most distinctive men?s watches.
Firstly, pictured above on the right, is the Visodate Automatic model, which was designed in 1950 to pay homage to Tissot?s hundredth anniversary. Full of horological history, the Tissot Visodate makes a great addition to any watch enthusiast?s already stellar collection.
Finally, as technologically innovative as they are handsome, the watches of the T-Touch Solar collection are truly ahead-of-the-timepiece-curve. Powered by solar energy, the watches of the T-Touch Solar collection were the first to utilize touch-screen technology and offer over 30 features including weather, altimeter, compass, and much more.
Visit BENARI JEWELERS for Even More Swiss-Made Timepieces from Tissot!
Believe it or not, these are only a few of the extraordinary collections of Tissot watches available now at BENARI JEWELERS. Located in Exton and Newtown Square, Pennsylvania, the timekeeping experts of BENARI JEWELERS are committed to helping their customers find the Tissot timepieces that best fits their personality, style, and fashion.
In addition, as the Philadelphia?s premier all-in-own watch retailer, we are proud to also extend on-site timepiece repair and customization services, meant to keep your Tissot watch operating in tip-top shape for decades to come.
For information on the Tissot pieces mentioned here, please give us a call at 866-363-0808, browse our Tissot collection at benarijewelers.com, or stop by the Exton or Newtown Square, Pennsylvania showrooms of BENARI JEWELERS today!