Designer Spotlight: Simon G and His Rise to Fame
June 12th, 2018
It may come as a shock to learn that Simon G didn't actually want to become a master jeweler in the first place.
Back then, a young Simon Ghanimian wanted to break into engineering when he first came to America. When it didn't work out, he decided to become an apprentice to one of his relatives who was already working in New York's diamond district.
And, as they say, the rest is history.
Today, the founder of the internationally renowned company Simon G spends his time creating jeweled works of art. From engagement rings to wedding bands and more, his craftsmanship has won the company a raving clientele year after year.
Additionally, Ghanimian's attention to detail and quality have elevated his work and his company above the competition, making him a household name when it comes to beautiful bridal and fashion jewelry pieces. If you are interested in ethically sourced jewelry pieces, Simon G ensures that every single piece of jewelry that leaves their studios is created with 100% conflict free diamonds.
His jewelry collections, in particular, are ones to marvel at. Simon G seems to flow easily from one style to the next, creating many masterpieces along the way.
Keep reading to learn more about some of Simon G's most popular engagement ring collections out on the market today.
Classic Romance
Jewelry pieces from the Classic Romance collection are notable for their unique twist on classic jewelry silhouettes. The focus on geometry in this collection results in gorgeous rings with twisted and intertwined ring shanks, sometimes even braiding different metals together to create a one-of-a-kind look.
The crown jewels (pun intended) of this collection are the white gold engagement rings with sapphire halos. This style has become very trendy lately, with the glowing sapphire gemstones adding a fresh updated look to the typical halo engagement ring setting.
Vintage Explorer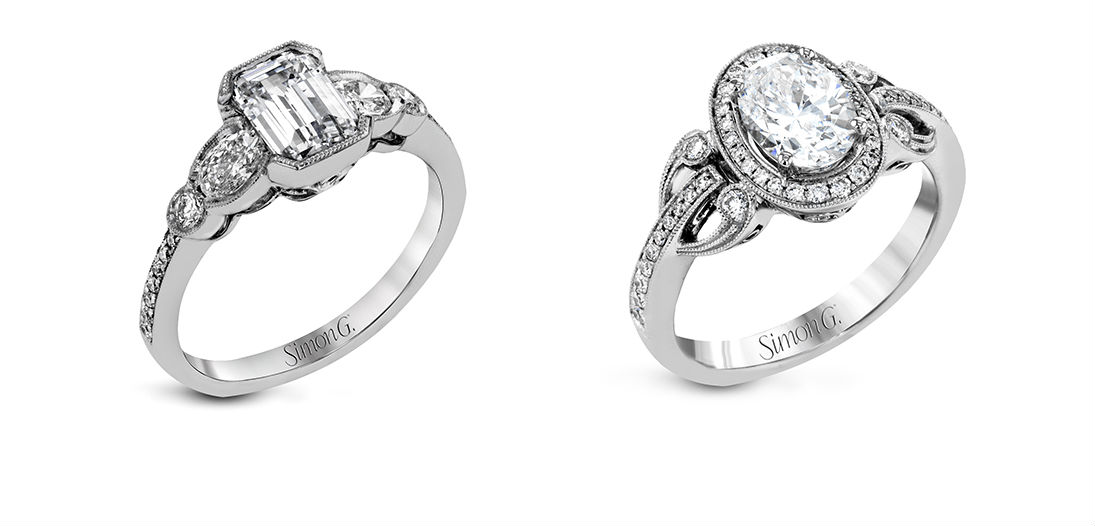 Simon G's Vintage Explorer collection is another very popular one, especially with vintage-inspired pieces being all the rage nowadays.
Each of the engagement rings in this collection has an Old World, art deco flair to it. From extremely detailed and intricate ring bands to floral metalwork, an engagement ring from the Vintage Explorer collection will be perfect for the bride-to-be who enjoys the details of a elaborate piece of jewelry.
Modern Enchantment
An engagement ring from the Modern Enchantment collection, with its glittering sophistication, is an ideal choice for a woman who loves to be treated like royalty. These beauties are stars in their own right, and their timeless yet contemporary flair appeals to women with a classic fashion sense.
Check out the collection for an assortment of rings with diamonds that run the length of the ring band, creating an exceptional brilliance that adds to the shine of the center diamond.
Garden
Finally, the Garden engagement ring collection is exactly what it seems to be: a cultivation of gorgeous rings with floral and leaf-like detailing all over.
These feminine and dainty designs add a romantic, wistful feel to any outfit and any occasion. The two-tone metalwork on some of these pieces also highlights the floral scrollwork that framed the center diamond, ensuring that all eyes are on your engagement ring when you're out and about.
BENARI JEWELERS is renowned in the greater Philadelphia area for our expansive Simon G offerings, as well as our exceptional customer service. In addition, we also offer bridal jewelry from other top designers, Swiss watches, fashion jewelry, and GIA-certified loose diamonds.
For more information on our products as well as the Simon G collections available at BENARI JEWELERS, feel free to contact our Exton or Newtown Square showrooms, or visit them in person.