Designer Spotlight on Tacori
February 15th, 2020
From engagements to anniversaries, Tacori has a treasure ready for you. Established in 1979, Tacori has been a family project since the beginning, bringing together the passion and skills of its founders, Haig & Gilda Tacorian. Their ancestors' long history in jewelry design was transplanted to California, where it took root in a land of exciting trends and forward-facing exuberance, creating one of our favorite brands here at BENARI JEWELERS.
As mentioned, Tacori hasn't slacked in its decades of business. The designer offers a wide variety of engagement rings, wedding bands for men and women, and fashion jewelry. Their use of multi-colored gold, platinum, and silver comes together with diamonds and colored gemstones to make a look that's immediately recognizable as "Tacori".
Engagement Rings
Tacori engagement rings are distinguished by their commitment to opulence. Opulence can be a very broad category, but it's difficult not to see it when you take a peek at the RoyalT collection, for example. The silky platinum shanks hold diamonds no less than two carats in size, with treasure hoards of side diamonds that would make serviceable center stones in other collections' rings.
Turning Tacori engagement rings on their sides, you can see the iconic crescent pavilions that are made to symbolize hidden hearts. Lacy and rich with milgrain beading, their rings are ideal for the woman who wants to bring some filigreed excellence to her engagement.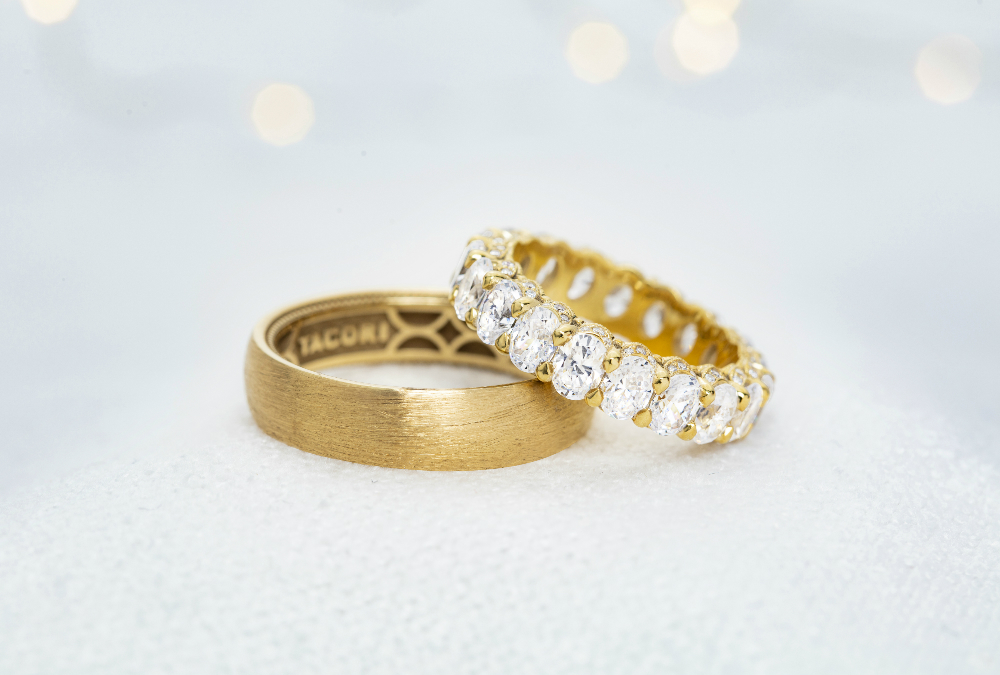 Wedding Bands
The nice thing about Tacori wedding bands is that they share many of the same traits that distinguish the designer's engagement ring elegance. The Tacori crescents are present in these bands, but when you look at collections like Adoration, you can see that their wedding bands are something distinct: Remarkable lacy bunting is decorated with pave-set diamonds that lend a glitter to the organic curves of the 18k gold used.
Interestingly, Tacori designs can also be found in men's wedding bands too. For a matching wedding look that a couple can appreciate together, turn to the Sculpted Crescent collection, whose men's and women's looks celebrate bezel-set diamonds.
Fashion Jewelry
Given Tacori's penchant for diamonds and platinum, you may be surprised to see how many of their fashion jewelry collections feature sterling silver and rainbows of colored gemstones. At BENARI JEWELERS, we showcase bracelets, necklaces, earrings, and fashion rings from the California designer, giving you a wide variety of choices. Take the Gemma Bloom collection as an example—with blue topaz, turquoise, and amethyst, Gemma Bloom pieces offer a fresh look for the new year.
Of course, there's not just sterling silver pieces. Collections like Crescent Cove and Crescent Crown utilize 18k gold to add some high-class fashion to the final product.
If you'd like to learn more about Tacori or how to make BENARI JEWELERS your local jeweler, don't hesitate to contact our showrooms: 610-363-8450 for Exton, Pennsylvania; and 610-355-1800 for Newtown Square, Pennsylvania!