Coming Up Roses: Finding the Perfect Rose Gold Engagement Ring at BENARI JEWELERS
March 18th, 2019
What better time to ask for your beloved's undying devotion than spring? The flowers are blooming, the birds are singing. With love so very much in the air, the desire to follow the call of the wild is undeniable. Our inside sources have let us in on the fact that a rose gold engagement ring is the perfect gift to bestow in the name of love in 2019.
Sure, ordinary gold engagement rings have their charm. If it were up to us, though, it would be all rose gold everything, all the time, every day. Now, rose gold is taking the mainstream by storm again. We've been waiting so long for this moment to come.
Rose Gold: Back with a Vengeance
Rose gold falls in and out through the years despite its fairly consistent vice-grip on the hearts of many, ourselves very much included.
Despite the ever-present competition of more traditional engagement rings in yellow gold and white gold, rose gold is now taking the stage once more as the more-than-worthy alternative we knew it was all along. Flattering against any skin tone and able to offer the wearer a characteristic warmth that no other precious metal can hold a candle to, rose gold is feminine and versatile enough to be mixed and matched with jewelry of all tones and styles. It also serves as the perfect backdrop for any type of stone, opening up a world of possibility to those interested in deviating from the traditional diamond solitaire.
The Crème de la Crème at Our Showcase
We're not shy when it comes to picking favorites around here. With so much to choose from, narrowing it down to the best can prove to be more than a bit challenging.
ArtCarved's Contemporary collection has to be up there, their offerings in rose gold being no exception. The gorgeously twisted double band featured in this rose gold engagement ring always leaves us breathless and dying for more.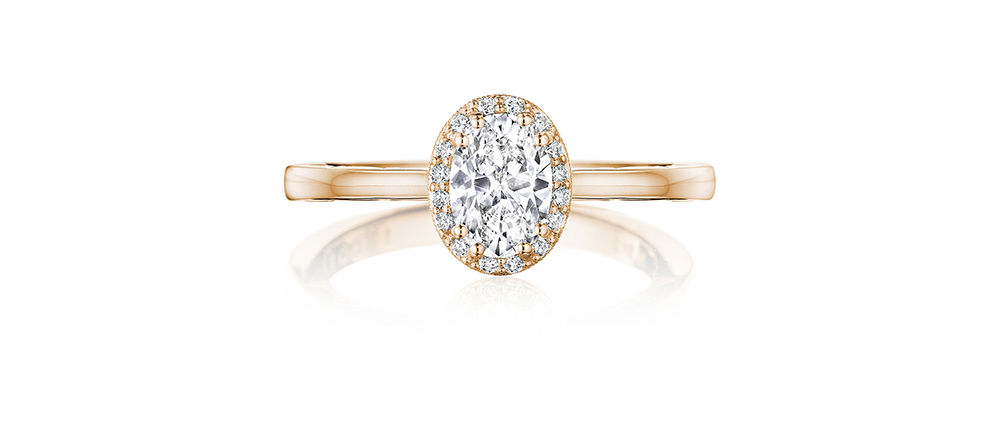 Classic and loved by all, Tacori's take on the rose gold engagement ring concept cements their place as one of the most formidable contenders in the game. This halo engagement ring from their Coastal Crescent line of bridal jewelry is glamorous without going over the top.
Going beyond the ordinary, MaeVona offers this marquise-cut engagement ring. The rose gold is accented by a center stone set lengthwise against the band, another up-and-coming 2019 trend. If you're intrigued by this piece's arresting style, you'll definitely want to check out the rest of what their Scottish Islands collection has in store.
Finally, we present this hexagonal engagement ring by none other than Hearts on Fire. This modern rose gold engagement ring embodies their signature style and will mesh seamlessly with any wardrobe.
Stop and Smell the Roses at BENARI JEWELERS this Spring
No matter what your style or budget may be this spring, BENARI JEWELERS takes pride in the fact that we've got just the thing for every couple. If you feel that a rose gold engagement ring is your destiny, stop by either of our locations in the greater Philadelphia area to take a gander at some of our top picks yourself.
BENARI strives to be more than your favorite place to shop in Exton and Newtown Square. Book an appointment with us today for the full lowdown on rose gold engagement jewelry and the rest of our carefully curated collection.