Colorful Engagement Rings for a Truly Spectacular Proposal
February 28th, 2018
With spring and engagement season right around the corner, at BENARI JEWELERS we are always ready to meet our customer?s demand for truly brilliant diamond engagement rings and accessories!
If you?re searching for rings as unique as your partner, the engagement rings of Barkev?s is where your search begins and ends. Barkev?s engagement rings are amongst some of the most captivating pieces we offer in our showroom, as well as feature charmingly colored side diamonds and glamorous designs.
As part of the spectacular selection of designer bridal rings, explore the wonderful, colorful designer engagement rings from Barkev?s available today at either the Exton and Newtown Square, Pennsylvania locations of BENARI JEWELERS to find your vibrant match today!
Barkev?s Colorful Pick #1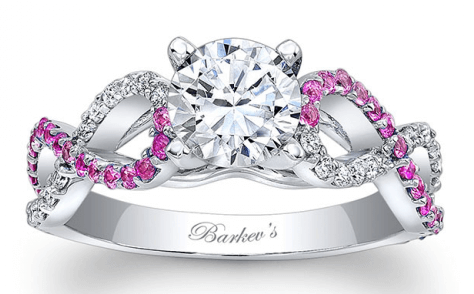 Firstly, made from glittering 14-karat white gold (also available in 18-karat white gold and platinum), this sidestone engagement ring (model #7714LPS) elegantly highlights Barkev?s natural gift of making rings of superior quality, expert cut, and gorgeous design.
In addition to its stunning solitaire center diamond and sparkly white side diamonds, this Barkev?s piece showcases an array of pink diamonds that make for a pretty pop of color that romantic brides-to-be will surely love.
Barkev?s Colorful Pick #2
Another fine option from Barkev?s, this fabulous ring (model #7950SBK) that ideal for the bold bride looking for an edgy look. While many would argue that black is not a bright enough color, we certainly beg to differ!
Shown above as a bridal set that includes an exquisitely-crafted engagement ring and sophisticated wedding band, the stark contrast between the white diamonds and the black sapphire stones is an eye-catching combination. Plus, the neatly placed vintage-inspired cluster of side diamonds on the engagement ring, make it an even more unique selection for cool brides-to-be.
Barkev?s Colorful Pick #3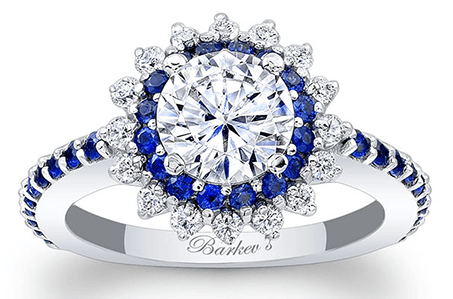 Finally, this Barkev?s blue-hued beauty has no equal among other bridal jewelry designs. The above enchanting sapphire halo and sidestone engagement ring (model #7969LBS) is imbued with regal sensibilities and an ultra-chic charm.
Boasting an overall glamorous style and a one-of-a-kind floral-inspired design, this piece is a guaranteed showstopper whenever and wherever worn.
Shop Barkev?s Engagement Ring Collections at BENARI JEWELERS!
These are just a sampling of Barkev?s phenomenal selection of big, bold, and bright pieces. At family owned and operated BENARI JEWELERS, we are pleased to be the place to shop for all things bridal and fine jewelry for over 50 years. Committed to a lifetime of bridal jewelry enjoyment and stress-free shopping, our showrooms are filled with the latest and greatest in engagement rings, wedding bands, and more!
In addition to the captivating pieces by Barkev?s, we?re excited to present an authorized selection from A. Jaffe, ArtCarved, Simon G., Tacori, Hearts on Fire, Coast Diamond, and so many more. Plus, to keep your engagement ring looking as shiny as the day you received it, at BENARI JEWELERS we offer the Free Lifetime Service Plan which takes care of a lifetime of maintenance.
For more information on Barkev?s engagement ring collections or to browse all the bridal rings available, check out BENARIJEWELERS.com, call us at 866.363.0808, or visit us in-store at either our Newtown Square or Exton, Pennsylvania showrooms.