Choosing the Perfect Wedding Band Trend for Your Summer Wedding
July 14th, 2019
As industry insiders, we?re more than aware of the fact that when the heat starts rolling in, many couples begin their search for the perfect wedding bands to exchange on the big day. The fashion world is more than willing to oblige us with plenty of new bridal jewelry trends that we are absolutely crazy about. In the spirit of the times, we?ve decided to put together a round-up of a few hot styles that have really been doing it for us lately.
Not every wedding band trend is created equal; luckily, you have us to help you separate the wheat from the chaff. Check out some of a few of our favorites below.
Stackable Wedding Rings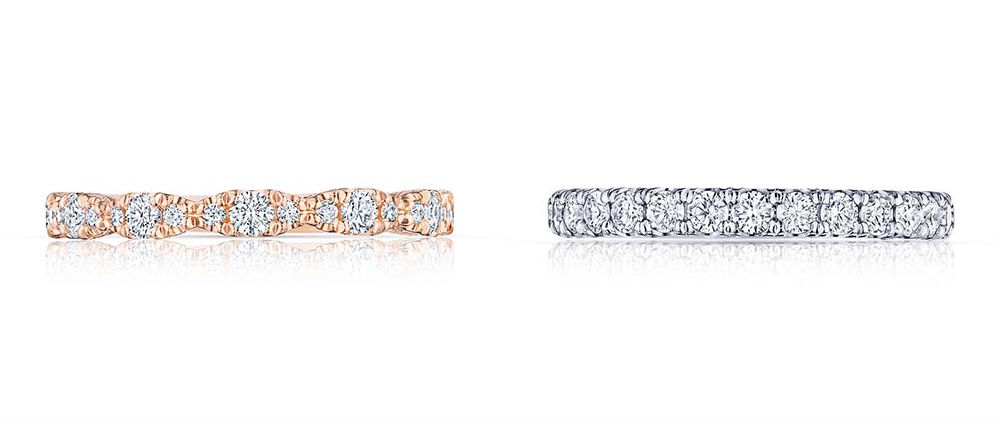 This wedding band trend has been huge since the new year. Now that the season has finally broken, however, we think it?s the perfect time to adapt the look to suit these hot summer days. The fresh and fun conventions our beloved Tacori is famous for fit the bill swimmingly; the simpler (while at the same time stunning) designs hailing from the Petite Crescent line will serve as the perfect baseline for a bolder centerpiece.
Dainty and Oh-So-Delicate

A light, feminine wedding band will be the perfect way to complement your favorite summertime threads ? whisper-thin bands and small, ladylike stone studs will be just the right amount of glam for the subtler fashionistas among us.
Eternity Bands
Eternity wedding bands are more than just the hype ? symbolically, the uninterrupted string of stones encircling the finger portray graphically the devotion your partner has for you (namely, that it goes on forever). More importantly, though, is clearly the level of sparkle they bestow on your look every day. Very important for a piece that will eventually become a permanent part of your wardrobe.
Blushing Beauties
Gemstone Bands
If there?s one thing we can say about rose gold, it?s that the more there is to contend with, the better, and that can only mean one thing: stackable rings. Gemstone rings from Henri Daussi come in a variety of fun color combos, making them perfect for this trend. Unique additions like the fashion rings by Luvente make the look completely your own.
Ornate Filigree and Engraved Elements
Intricate filigree, more commonly known as that amazing, vintage-inspired something that will send an ordinary wedding band totally over the top, has stolen our hearts once again. Artcarved has proven themselves to be the master of all things filigree and we highly recommend them.
Find Your Perfect 2019 Wedding Band Trend This Summer
If you thought that was a lot to handle, we have good news: there?s plenty more where that came from. Get in touch with us online to book a consultation; we?ll be your guide to the thousands of styles we have in stock from over a dozen world-class designers. To see more today, pay us a visit in Exton or Newtown Square, Pennsylvania and join our family of cohorts.