Bridal Jewelry Trends: Finding the Perfect Step-Cut Engagement Ring at BENARI
February 11th, 2019
Here at BENARI JEWELERS, we're always looking to bring the best to our customers and are constantly on the prowl for what's up-and-coming. The classic solitaire engagement ring? While tried-and-true, modern convention finds its lack of originality…somewhat dull. The simplicity leaves some women wanting more.
The latest on the bridal jewelry horizon: a step-cut engagement ring is 2019's must-have for women getting married this year.
The Low-Down on the Step-Cut Engagement Ring Trend
You may be asking: what exactly is a step-cut engagement ring, anyway? Step-cut diamonds feature a slightly different configuration of facets characterizing both their length and width (eight, to be exact). Included in the family are asscher-, emerald-, and baguette-cut stones, the latter of which are usually reserved strictly as accent pieces.
Step-cut diamonds are hewn as such in order to highlight the stone's natural features; the purpose of this process is to produce the most brilliant cut possible while paring away a minimal amount of the raw diamond's carat weight. The step-cut, a type of fancy cut, is well known for the clarity it lends to the diamond it's applied to.
Step-cut diamonds of all varieties offer the band a contemporary, geometric appeal that less angularly-cut diamonds simply don't offer. They're the perfect choice for a woman who prefers a cleaner look.
Choosing a Step-Cut Engagement Ring at BENARI JEWELERS
Where to begin? Artcarved is a natural first choice, if you ask us. This milgrain engagement ring from their Vintage line is elegant and oh-so-feminine. Equally stunning is their entire Classic collection. This step-cut engagement ring is a stand-out example, in our own humble opinions.
Next up, obviously, has to be Tacori. Each piece they offer from the Simply Tacori collection is fabulous in its own right. This step-cut engagement ring, however, really does stand out from the crowd. Ditto for this delectable piece from the Petite Crescent series.
A. Jaffe fanatics are probably more than familiar with their widely-celebrated Art Deco collection. This step-cut engagement ring featuring a diamond halo rim leaves absolutely nothing to be desired.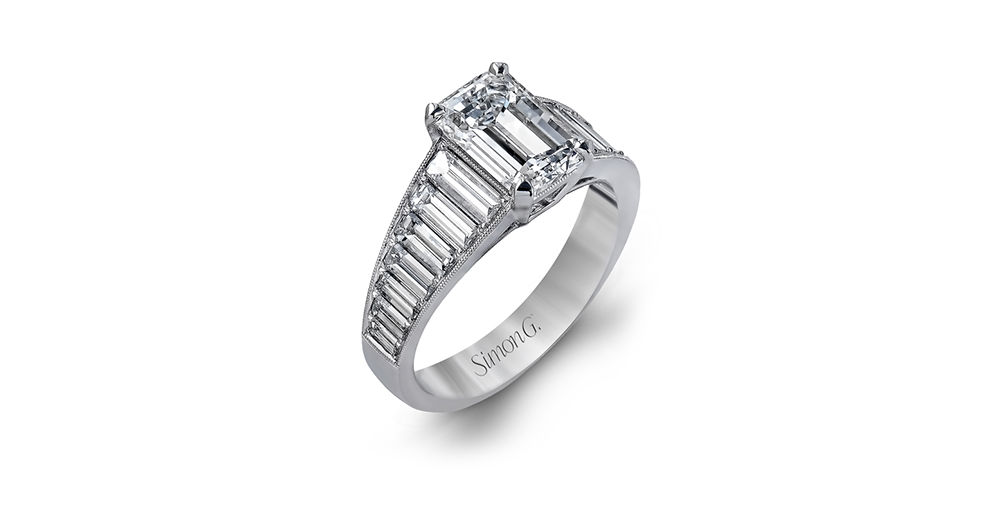 This extravagant step-cut engagement ring from Simon G's Vintage Explorer line of bridal jewelry features not only a step-cut center stone, but also over a carat and a half of sidestones echoing the main attraction.
Concluding the list: the one-of-a-kind Maevona. This modern step-cut engagement ring from their Scottish Islands collection is available in rose gold, white gold, yellow gold, and platinum.
Step-Cut Engagement Rings and More at BENARI JEWELERS
At BENARI JEWELERS, one thing is for certain: we love love, and we love helping wonderful people seal the deal in style. Our Say Yes program gives you everything you need to make your proposal a truly unforgettable event, allowing you to customize your step-cut engagement ring and even arm it with a small camera to catch every detail when the big day arrives.
We also offer many services to our clients, including maintenance and repairs for your entire collection. To learn more, visit our shops in Exton and Newtown Square, Pennsylvania or schedule a consultation with us online. We're here to make sure things go right for you and your future fiancée and are happy to answer any questions you may have about any of the products in our catalogue.