Amethyst, the Birthstone for February
February 1st, 2020
Amethyst is the birthstone for those born in February, and here at BENARI JEWELERS, we have a real passion for the elegance of this ancient purple gemstone. This passion comes through in the brands whose pieces we carry at our showrooms.
Tacori, Luvente, and Marco Bicego all utilize remarkable amethysts in their designs, but what is it about this stone that sparks the imagination so powerfully?
The Color
Wine-purple, crystalline gemstones are relatively rare in the world of jewelry design, with iolite and purple tourmaline the only other common gems that occupy that design space. Amethyst has been beloved for millennia for its brilliant violet, and the ancient people treasured it for its hardness—which we'll discuss in a moment.
What you might not know is that amethyst is a quartz gem, and it derives its unique color from the presence of a "tetravalent iron cation" found in the stone. However, when heat or radiation is applied to the gem, the tetravalent iron cation (Fe4+) transforms into its trivalent state (Fe3+). The end result is that the violet amethyst you love in your gemstone necklace transforms into golden citrine!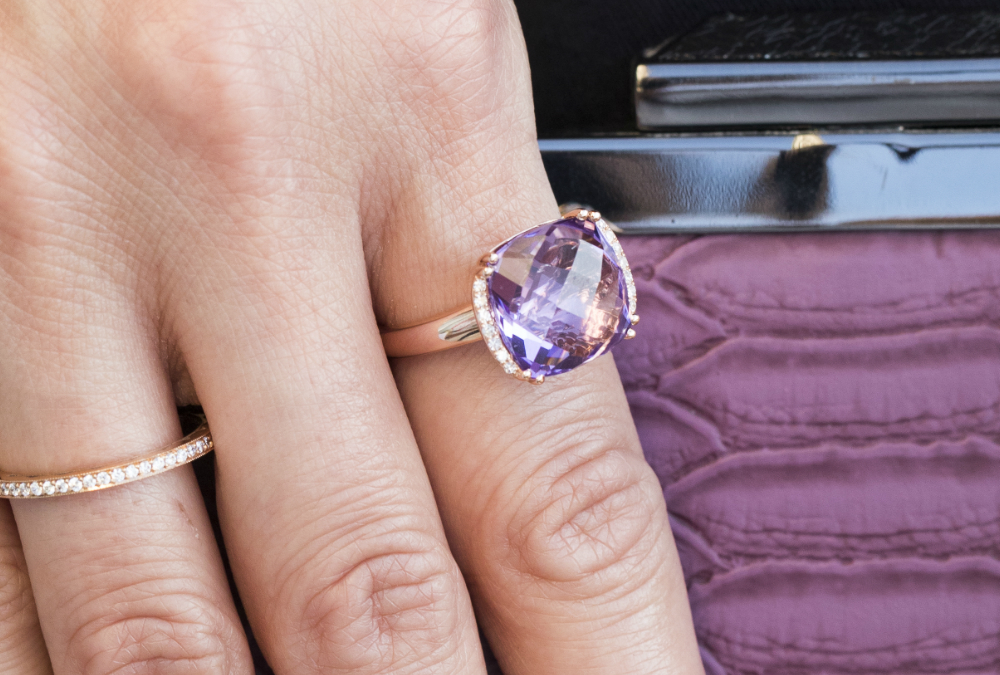 The Magic
While we've discussed the science of amethysts, but their long history and unique color has made them a natural fit with the magical and symbolic thinking of many ancient civilizations. The name of amethyst itself comes from Ancient Greek. "Amethyst" means "not drunk" in the language, and it was believed that the gemstone had the power to keep people from becoming drunk. Its aristocratic color was believed to carry royal power—to such an extent that Queen Elizabeth I only permitted members of the highest members of her court to wear the stone.
The reputation for healing and spiritual balance has long been a feature of the amethyst, but even if you're not interested in those stories, you're certain to feel a sense of repose and aesthetic power when you wear a glamorous bracelet whose amethyst complements the bright yellow of gold.
The Durability
Simply put, amethyst is extremely durable, making it a great choice for a fashion ring, which can be hit against hard surfaces. As a 7 on the Mohs scale, quartz is only three degrees removed from diamonds, the hardest mineral in nature. If you were planning on getting a piece of amethyst fashion jewelry, you can be comforted by the fact that your favorite stone is made to last.
Consider the fact that the Ancient Egyptians and Romans made carved amethyst jewels whose patterns, even after millennia, remain very clearly distinct!
If you'd like to learn more about amethyst, fashion jewelry, or how to make BENARI JEWELERS your local jeweler, don't hesitate to contact us today: 610-363-8450 for Exton, Pennsylvania; and 610-355-1800 for Newtown Square, Pennsylvania!