Alternative Men?s Wedding Bands: Cool for the Contemporary Groom
October 1st, 2019
When you think about traditional wedding bands, you may be inclined to think about gold and diamonds. And while that?s a great choice for many guys, we have quite a few grooms-to-be visit our showrooms here at BENARI JEWELERS and mention they?re pretty blas? about those traditional materials. But if you?re part of that cadre of men, have no fear. We?ve taken pains to showcase some of the most remarkable selections of alternative men?s wedding bands in the Delaware Valley area!
But what makes an alternative wedding band ?alternative?? Sometimes, an alternative band is distinguished by a unique sense of style that completely diverges from the expected norm. When you browse the men?s wedding bands we offer, however, you?ll notice that many of our bands use metals and materials that you?ve never seen before, and that?s the real pleasure of alternative wedding bands.
The Pros and Cons of Alternative Wedding Bands
The pros of alternative men?s wedding bands are numerous. One of the more apparent ones is aesthetics: For example, if you don?t favor the luster of gold, maybe a ring constructed from different shades of hardwood is ideal? Or if you don?t like diamonds, maybe you?ll adore inlays of meteorite whose cross-hatched patterns come from millions of years of evolution in space.
Both of these looks (and more!) can be discovered in the collections from Lashbrook. Beyond aesthetics, durability is another concern. Gold is an extremely soft metal, and diamonds can be fragile if their edges strike hard surfaces. You may appreciate ultra-durable alternatives, such as cobalt and titanium. The tantalum wedding rings by Tantalum boast extraordinary hardness and near immunity to all acids.
The cons depend largely on the materials chosen for your alternative ring. One of the biggest drawbacks of non-noble transition metals (metals that aren?t gold, silver, or platinum) is their susceptibility to corrosion or degradation over time. Bands made with wood and Damascus steel may be more vulnerable, as an example. And of course, it can be difficult to have truly exotic materials cleaned and repaired, since they require a standard that jewelers may lack in their stores.
Alternative Men?s Wedding Band Designers at BENARI JEWELERS You?ll Love
The Ammara Stone collection at BENARI JEWELERS offers a unique fusion of engraving and materials. By bonding materials like ultra-lightweight black titanium and tantalum, Ammara Stone creates an aesthetic euphony of style and substance.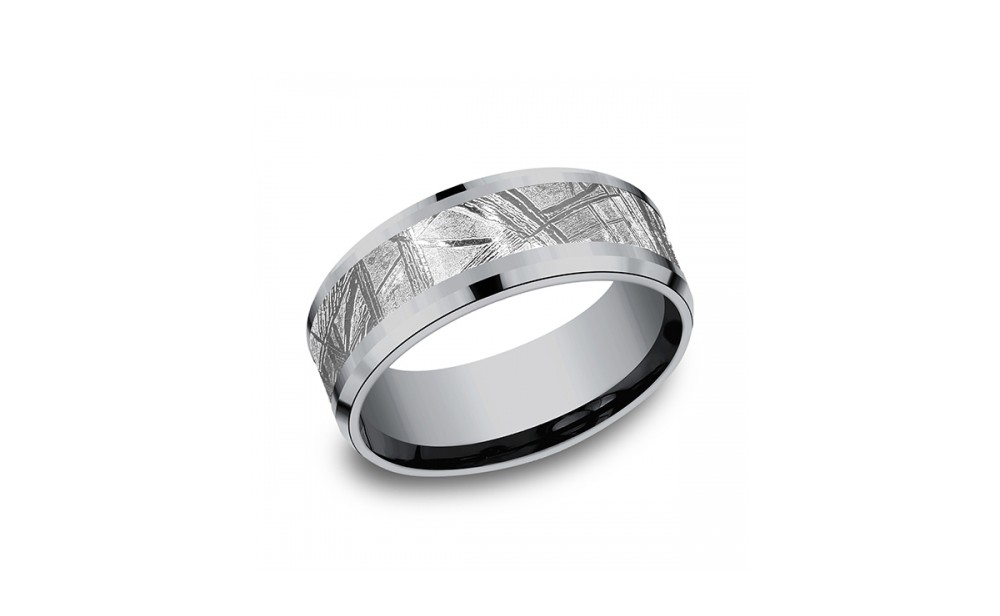 Speaking of tantalum, the brand Tantalum offers rings made from the metal that, as we described, is highly resistant from the chemicals made by human skin and used in industry.
Lashbrook, with their collections of innovative materials, reflect the drive toward creativity and personalization that?s characterized men?s wedding bands in the last decade, and for ruggedness that also comes with unexpectedly beautiful traits, you may appreciate the metals used by the brand Forge.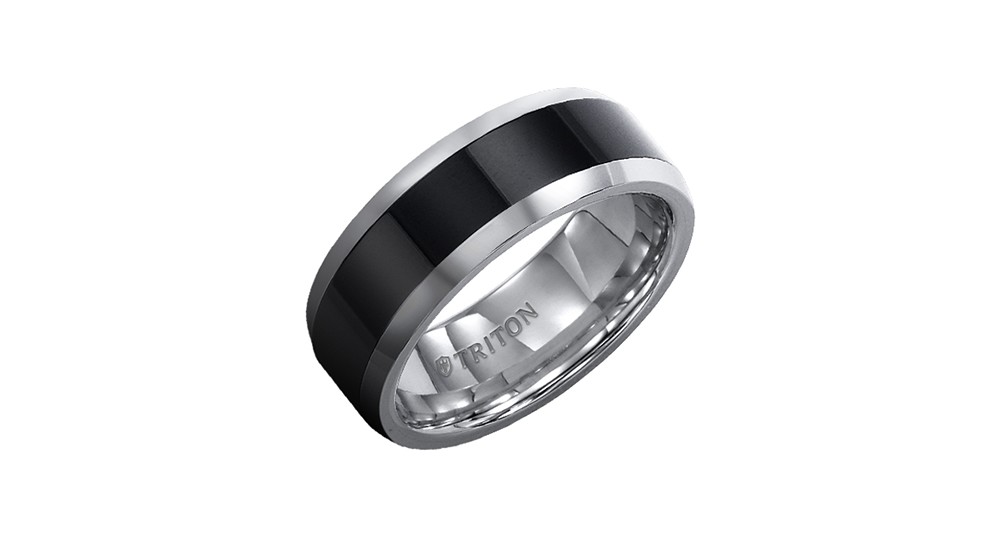 And of course, we can?t overlook Triton: Their rings are made from tungsten carbide, a composite of tungsten and carbon. Tungsten is harder than steel and has the highest tensile strength of metals. When made into a carbide, its rough-hewn excellence is trusted for industrial uses and the finest sawblades—and your new wedding band.
Shop Wedding Rings and More at BENARI JEWELERS
When you?re looking for exceptional choices in alternative men?s wedding bands, check out the brands we offer here at BENARI JEWELERS. We?re always happy to show off cool new looks to grooms-to-be, so if you have any questions, contact our Exton showroom at 610-363-8450 or our Newtown Square showroom at 610-355-1800!