A Sneak Peek at Our Favorite Sculptural Statement Earrings of the Season
October 24th, 2018
Timeless, bold, and sometimes abstract, the sculptural statement earring is one of those trends that enters the fashion world and shakes up the whole industry. Recognized by the use of geometric shapes and polished metals, this latest variation in earring trends is something we haven't seen in some time.
Jewelry designers from across the industry have dipped their toes into this new earring style, which means there is plenty out there to choose from. If you're looking to add the latest in fashion jewelry to your collection, don't worry you're in the right place -- our skilled jewelry stylists at BENARI JEWELERS have put together this list of some of the best pieces in our showroom.
What are Sculptural Statement Earrings?
If you're looking for an earring piece that is simple and can be worn in both formal and casual situations, the sculptural statement earring is undoubtedly a worthy pick. These earpieces are often made in sterling silver and yellow gold, and sometimes are dressed in a light dusting of diamonds or stones; however, the specific style tends to change depending on the designer.
This earring style ought to be the staple piece in every jewelry collection, as they add a kind of simple brilliance to any outfit. Whether you're rushing to the office, heading to a casual night out with friends, or attending a formal ball, the sculptural statement earring can serve as your trusty earring piece.
Pieces That We Admire at BENARI JEWELERS
Our in-house stylists have taken quite a liking to the sculptural statement earring and have put together a list of some of the pieces that they admire the most.
First on their list is a pair of stunning sterling silver and yellow gold drop earrings from the designers at John Hardy. While beautiful in their own right, they aren't the only pair of John Hardy earrings on our list.
Two pieces found in John Hardy's Classic Chain collection are also prime choices for anyone hoping to follow with this trend. One piece takes on the geometric shape of a rounded square and utilizes deep blue sapphires and sterling silver to create a striking contrast.
Our other favorite sculptural statement earring found in John Hardy's Classic Chain collection uses the sapphire in a more minimalist fashion by trading a cluster for a thin square. This drop earring piece is made from a series of interlocking squares as to create the illusion of depth and plays with light in dynamic ways.
The last John Hardy piece found on our stylists' list is the beautifully crafted chandelier earring found in their Bamboo collection. In this sculptural statement earring piece, John Hardy designers utilize a showering of sterling silver hoops. At the end of the chandelier are three opulent moonstones that add to the piece's regal aesthetic.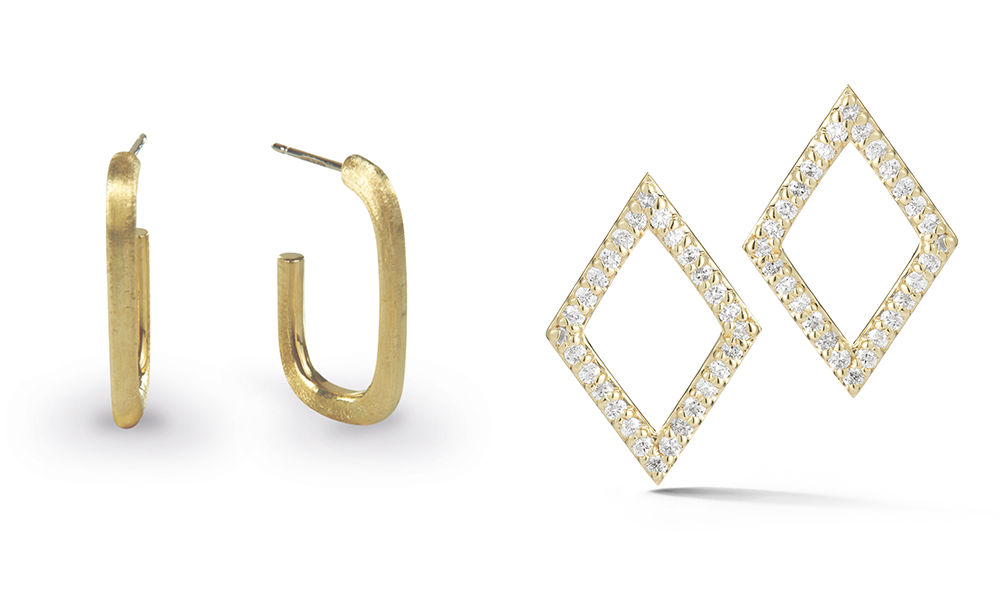 In this recent earring trend, sometimes less is more. These simple yellow gold hoop earrings would make the perfect addition to any jewelry collection, and like other pieces in this trend can be dressed to fit both casual and formal attire.
Last on our stylists' list are the Diamond Prism earrings crafted by Barbela Design. These diamonds shaped, diamond and yellow gold earrings, show how the radically new can blend seamlessly with the traditional. This jewelry piece refuses to be dressed down thanks to the framing of round cut pave set, diamonds; and that's perfectly fine in our opinion.
Following the Latest Fashion Trends at BENARI JEWELERS
Keeping up with the latest fashion trends can be a bit of an overwhelming task; fortunately, our skilled jewelers at BENARI JEWELERS, are ready and willing to help. In our Exton and Newton Square, Pennsylvania showrooms we carry not just sculptural statement earrings, but also designer wedding bands, engagement rings, timepieces, and other fashion jewelry pieces.
We proudly provide the nearby cities of Philadelphia, West Chester, Malvern, Downingtown, and King of Prussia with a suite of professional jewelry services including onsite jewelry cleaning, resizing, polishing, and repairs. For information on our products and services, give us a call at 866-363-0808 or visit either our Exton or Newton Square showroom today.