A Fine Jewelry Gift Guide to Major Wedding Anniversaries
March 14th, 2018
An important part of any marriage, wedding anniversaries are a great time to show your special someone just how much you care about them.
For years tradition has dictated that the gift for each anniversary be something surrounding a general theme, for example some couples celebrate the first year with a gift made of paper, the 10 th with tin or aluminum, the 35th with coral, and the list goes on. While there's no arguing that these traditions aren't charming, fun, and romantic, at BENARI JEWELERS we prefer to give the gift of fine jewelry.
So to help you find that ideal present for your sweetie, here are some fabulous items from BENARI JEWELERS perfect for any major wedding anniversary!
1st Anniversary: Yellow Gold!
Still coming down from the early excitement of married life, your first wedding anniversary is widely considered the gold standard to which all future celebrations will be compared against. The first anniversary is usually celebrated with a piece of yellow gold jewelry.
While it may be tempting to go over-the-top for this first anniversary, we strongly suggest that couples go for something simple, easy-to-wear, and that will nicely complement your year-old wedding bands.
For example, these bracelets from Hearts on Fire and Marco Bicego are a wonderful way to add a dash of glittering gold sparkle to your new bride's ensembles without overpowering her beautiful wedding band. Similarly, gold cufflinks – such as these pairs by Brother Wolf and Tacori – make simple and useful gifts that any groom is sure to wear an appreciate.
5th Anniversary: Sapphires!
Available at BENARI JEWELERS in deep blue and bold black colors, fine jewelry featuring sapphire stones are the suggested gift for the all-important fifth wedding anniversary. Five years after you said "I do", the fifth anniversary gift should be something from the heart that you believe perfect encapsulates your partner's personality and individuality.
Our first sapphire suggestion are these blue sapphire, black sapphire, and white diamond earrings from John Hardy. Inspired by the people and landscape of Bali, these sapphire earrings can be found in an array of options that are every bit as unique and one-of-a-kind as your bride.
Maybe it's cheating, but we think these Portofino collection timepieces from IWC Schaffhausen make great sapphire-themed gifts for any husband. Using highly scratch-resistant sapphires used to craft the glass that covers these watches' straightforward dials, creating pieces that every bit as durable as they are nice to look at.
10th Anniversary: Diamond Jewelry
A significant milestone for any couple, the tenth anniversary is marked by giving the gift of brilliant diamond jewelry. Typically at BENARI JEWELERS we suggest that our customers take advantage of this once-in-a-lifetime moment to find a "diamond anniversary band" to add to their already perfect bridal jewelry.
Romantic and significant, for your tenth anniversary we suggest exploring the wide selection of eternity style diamond wedding bands on display today in either of our Exton or Newtown Square showrooms. Featuring a line of securely-placed diamonds that stretch across the whole of the rings, eternity style bands, like the men's and women's models pictured above from A. Jaffe and ArtCarved, are a glamorous and sentiment-filled way to celebrate you and your partner's everlasting love and commitment to each other.
25th Anniversary: Silver Jubilee!
After a quarter of a century together, the 25 th anniversary is your time to shine with the gift of sparkling silver fine jewelry. Versatile and easy to keep stunning, jewelry and watches made with sterling silver (or silver-colored metals like platinum) are a long-lasting way to pay loving homage to your marriage vows.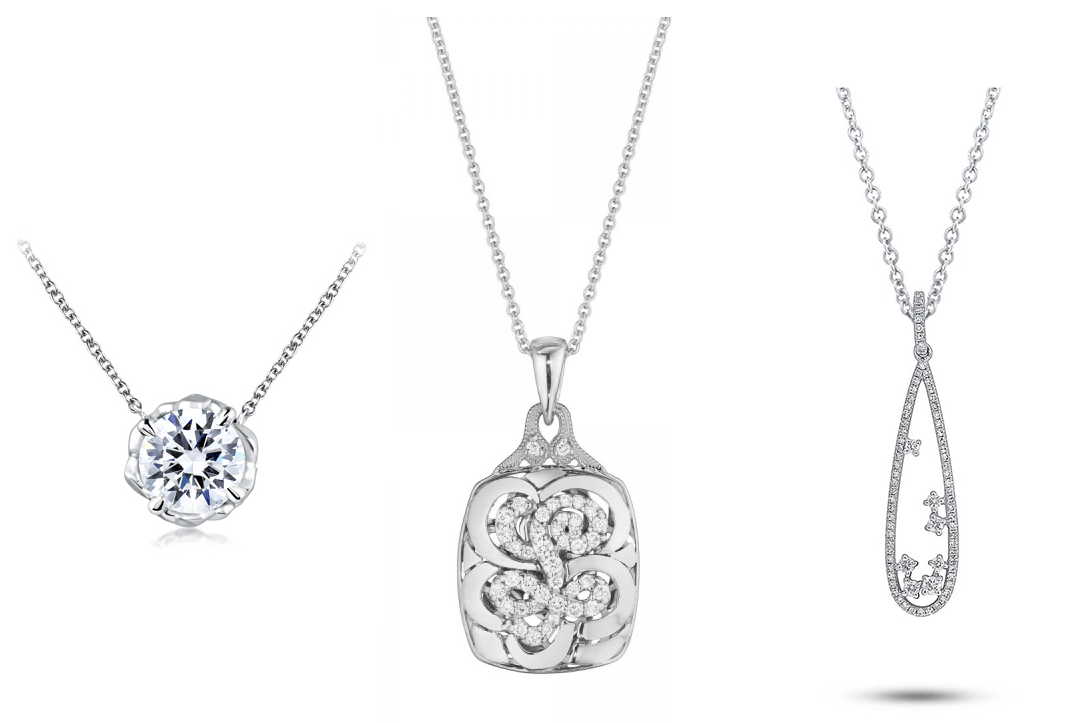 Shining, sophisticated, and stunning, diamond-dripping silver-colored necklaces make exquisite gifts that not soon to be forgotten. Shown above by A. Jaffe, Tacori, and Shy Creation, these silver necklaces bring a blinding level of classic sparkle that is not soon to be forgotten.
On the other hand, a confident and handsome men's fashion ring is a great gift for the man who already has everything. From Tacori's Monterey Roadster and Legend collections, these rings are made with uniquely finished sterling silver 925 for a timeless and classic feel.
50th Anniversary: Golden Jubilee!
A truly impressive accomplishment, 50 th wedding anniversaries are a time to gather your friends and family to memorialize half a century of happy marriage. Known as the Golden Jubilee, it is customary for couples to, similar to how they did on their first anniversary, to give a gift of shining gold.
Crafted to fit center diamonds of 2-carats or larger, the 18-karat yellow gold engagement rings of the Tacori RoyalT collection are immaculate and luminous ways to honor your lifelong queen. Available featuring round, princess, emerald, oval, and pear shape diamonds, a RoyalT engagement ring is an heirloom quality piece of infinite sparkle and shine.
Our final gift suggestion, are these two 18-karat red gold men's watches, also by the Swiss-based master watchmakers of IWC Schaffhausen. From the legendary Portugieser collection, the Tourbillon Hand-Wound (on the left) and the Minute Repeater (on the right) are both gold-forward timepieces that perfectly encapsulate your husband's unique style and dependability.
Visit BENARI JEWELERS Today for More Fine Jewelry Anniversary Gift Ideas!
With two conveniently located showrooms in Exton and Newtown Square, Pennsylvania, BENARI JEWELERS is the premier destination for the very best bridal jewelry, fashion jewelry, and timepieces in the greater Philadelphia area. Additionally, for couples looking for an intimate and one-of-a-kind anniversary gift, at BENARI JEWELERS we also extend a comprehensive selection of in-house customization and personalization services.
For more information on the pieces shown here, or to learn more about the wedding anniversary gifts available now at BENARI JEWELERS, please call 866-363-0808, explore our selection at benarijewelers.com, or visit either of our Exton or Newtown Square, Pennsylvania locations today!