3 Timepiece Trends for the New Year
February 7th, 2018
As the area?s full-service jewelry retailer, at BENARI JEWELERS we are dedicated to keeping up with all the latest fashions, not just for bridal and fine jewelry, but also for timepieces as well. Featuring top-tier designers including Breitling, Tag Heuer, IWC Schaffhausen, and others in both our Exton and Newtown Square, Pennsylvania showrooms, we are confident that every guest can find the style to suit their specific timekeeping needs.
And to better help you stay up-to-date on next year?s timepiece trends, our fine jewelry experts have put together their top three timepiece predictions for 2018!
Timepiece Trend #1: Classic
Never out of style, it is no surprise our expert staff agree that classically-designed watches are still the must-have for any fashionable person. Featured above from luxury designer IWC Schaffhausen and from their most successful collection, the Portofino collection, IWC Schaffhausen crafts some of the most captivating and refined watches for men.
Considered essential fashions for any watch novice or aficionado, a classically designed timepiece such as the IWC Schaffhausen pictured above makes a great beginner?s watch sure to last a lifetime of wear.
IWC Schaffhausen?s Portofino Automatic 37 timepiece (model # IW458116) has modern appeal due to the iconic IWC Schaffhausen classic, clean look. Showcasing an absolutely stunning 18-karat red gold case and a genuine leather band, there is no other designer brand that matches the luxury and traditional watch appeal as an IWC Schaffhausen piece.
Timepiece Trend #2: Sport
Another sure-to-be-hit in the New Year is an active lifestyle watch such as a diver or sport watch from a top brand with dependability and durability craftsmanship to match the wearer?s adventurous lifestyle. No longer just for sportsmen, sport watches, diver watches, and other active lifestyle watches are an incredibly functional asset to the contemporary man on-the-go.
Pictured above from Tissot and their incomparable Sport collection, this Tissot T-Race timepiece (model # TO484173705700) makes a wonderful companion piece to any adventure-seeking man. Inspired by bike-racing and other ?dynamic? lifestyles, this truly exceptional piece features an impressive 330ft water resistance level, chronograph, and a highly-durable outer casing to perfectly keep up with the thrill-seeker who wears it.
Timepiece Trend #3: Hybrid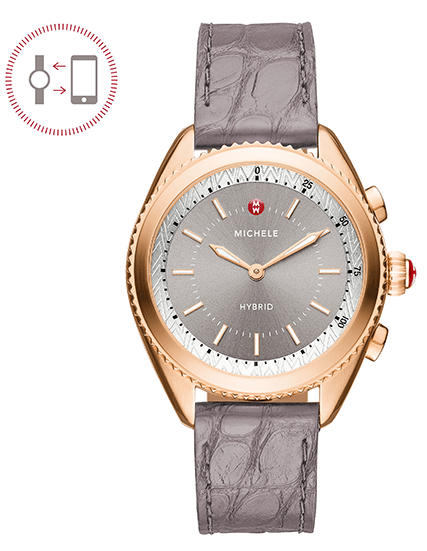 Last, for those who can?t get onboard the classic or active looks, then hybrid smartwatches is the way to go. While earlier models of smartwatches were made for function and not style, the latest in hybrid timepieces are nothing like their predecessors. Built to last, and featuring chic-exteriors, today?s smartwatches and hybrid watches are definitive style changers.
BENARI JEWELERS is proud to offer the latest from luxury-designer Michele. Recently released from the Hybrid Smartwatch collection, features easy-to-use smartwatch alerts beautifully merged with Michele?s ultra-stylish designs.
Shop the Latest Timepiece Trends at BENARI JEWELERS!
More than just timepieces, at BENARI JEWELERS we are thrilled to present an enormous inventory of bridal and fine jewelry fashions perfect for everyone. Among the top-quality engagement ring and wedding band designers we have for our Philadelphia, Springfield, Malvern, Downingtown, and surrounding city guests, we have pieces by ArtCarved, Tacori, A. Jaffe, Simon G, Hearts on Fire, and so many more contemporary favorites.
Proud to present a continually changing assortment of fine jewelry pieces including necklaces, bracelets, earrings, and fashion rings, also available are the gorgeous pieces by Brother Wolf, Amden Jewelry, and more. Further, the staff at BENARI JEWELERS is always happy to assist guests find their ideal fine jewelry items whether it is a gift or simply a treat for oneself.
For the latest in timepiece fashions or for more of our expert timepiece predictions call 866.363.0808, browse BENARIJEWELERS.com, or visit our Newtown Square or Exton, Pennsylvania showrooms today!