Hottest Wedding Band Trends of 2023
October 5th, 2023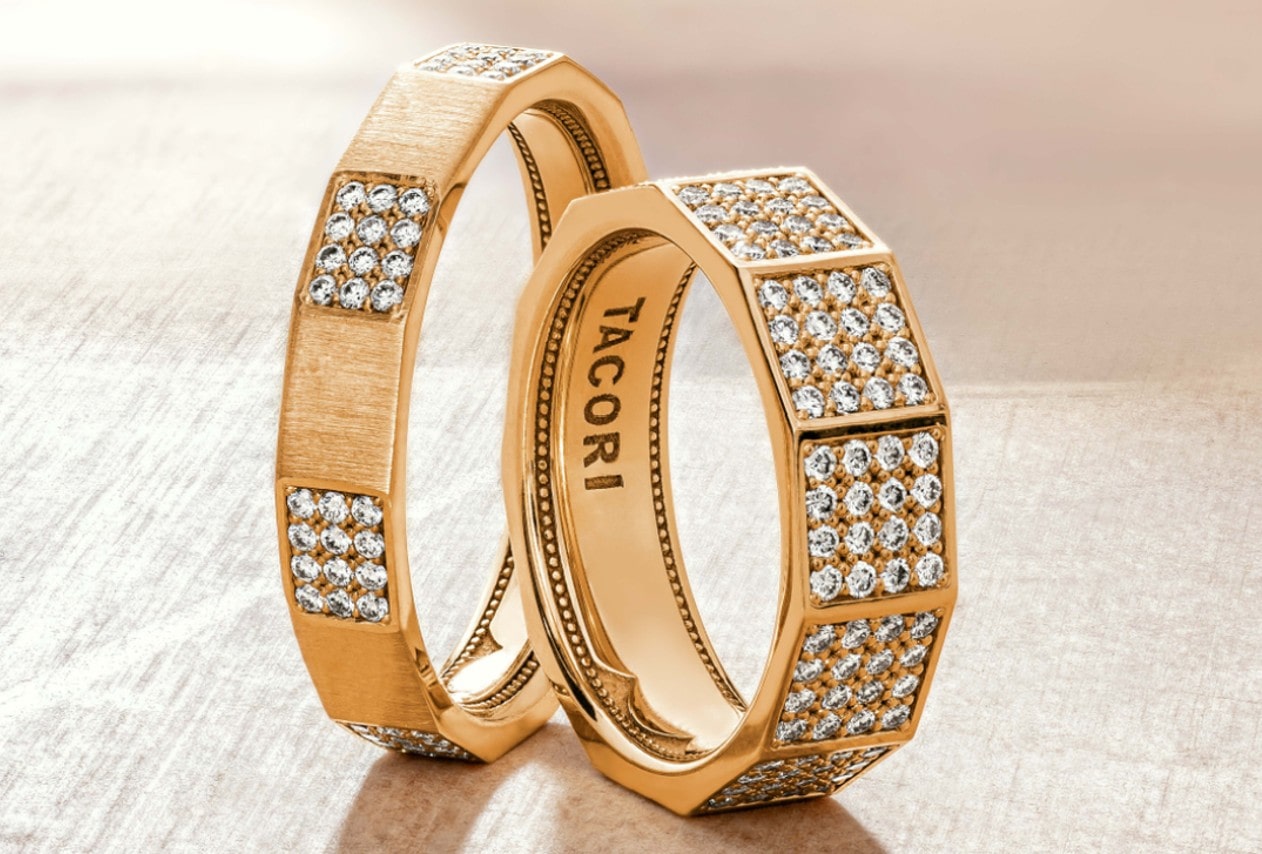 At BENARI JEWELERS, we understand that wedding bands are more than mere ornaments; they symbolize unity, love, and a lifetime of commitment. While trends ebb and flow, the enduring allure of a wedding band remains timeless. If choosing to embrace the current vogue, it's essential to select a design that won't lose its appeal with the changing tides. Our incredible designer selection in our Pennsylvania jewelry stores offers a myriad of wedding bands that artfully merge contemporary style with everlasting elegance. We've crafted this guide to help you find a piece that is, at once, trendy, timeless, and wonderfully representative of the love you share with your partner.
Colorful Gemstone Bands
In the ever-evolving world of jewelry, colorful gemstone bands have made a resounding statement this year, and for good reason. These vibrant bands resonate with those seeking a touch of individuality, adding an expressive pop of color to a classic bridal stack. Choose a gem that is either your favorite color, your birthstone, or holds significant sentimental value for you. This women's band from the Tacori RoyalT collection, showcases a mesmerizing row of blue sapphires, encapsulating both tradition and modernity.
Exquisite Platinum Bands
Surging in popularity this year, platinum wedding bands represent a timeless choice for modern couples. Revered for its purity, platinum remains untarnished, ensuring that the bond it signifies remains pure and enduring. Its unparalleled durability means it resists wear, making it an emblem of love's lasting strength. Furthermore, platinum's intrinsic value makes it a sought-after metal, a tangible representation of a relationship's invaluable worth. This Hearts On Fire Destiny Lace Twist eternity band exemplifies this perfectly. Its intricate design, set in resplendent platinum, not only speaks of love's eternal journey but also the enduring legacy of commitment.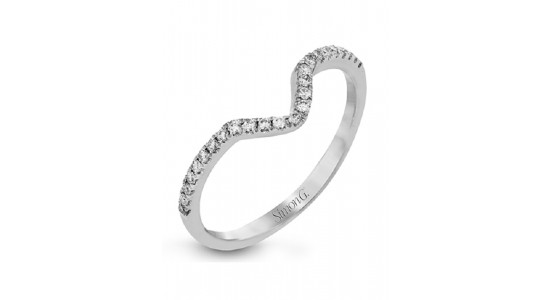 Accentuating, Curved Bands
This year, the allure of curved wedding bands has captivated many brides-to-be. Their elegant design is not just about aesthetics; it's functionality at its best. The gentle curve of these bands allows them to gracefully accommodate the center stone of an engagement ring, ensuring both pieces coalesce seamlessly. This design ensures that the rings sit flush together, creating a harmonious union of two symbols of commitment. This Simon G. wedding band is a quintessential example. Its delicate curvature and exquisite craftsmanship demonstrate how modern design can elegantly intertwine with practicality, making it a favored choice for contemporary couples.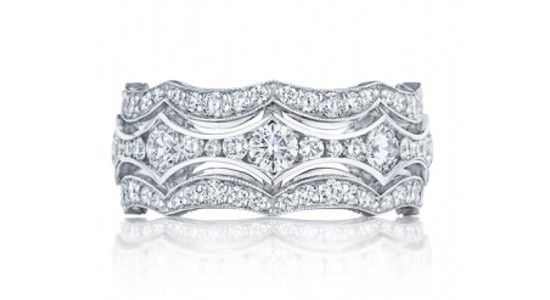 Eye-Catching, Chunky Bands
Bold, chunky wedding bands are stealing the limelight this year, marking a shift towards audacious expressions of love and commitment. These statement-making bands exude confidence and are emblematic of strong, unwavering bonds. When paired with a daintier engagement ring, they create a stunning visual contrast that draws the eye, symbolizing the dynamic nuances of a relationship. This elaborate Tacori Sculpted Crescent wedding band is an epitome of this trend. Its robust design, juxtaposed with intricate details, accentuates its presence, making it a perfect choice for those seeking a harmonious blend of boldness and elegance in their symbol of eternal love.
Shop the Latest Wedding Band Trends at BENARI JEWELERS
Discover the latest wedding band trends at BENARI JEWELERS, where timeless elegance meets contemporary style. With exquisite collections available at our Exton and Newtown Square, Pennsylvania jewelry stores, we promise an unmatched selection for discerning couples. Our commitment to quality and craftsmanship ensures that every piece tells its own beautiful love story. Dive deep into our curated selections and let us guide you to the perfect symbol of your eternal bond. To make your experience truly special, request an appointment for a personalized consultation with one of our dedicated team members. We're here to make your dream ring a reality.